Business
The Stimulus - Is It Static or Will It Spark? Kogod professor and managing director of the Kogod Tax Policy Center, Caroline Bruckner, breaks down the stimulus checks that many will receive, as well as the small business loans that are meant to support the economy.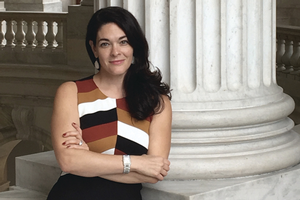 The novel coronavirus sent our economy into shock. With businesses closed, travel banned, and a number of other restrictions in place, jobs are scarce, and opportunities for people to spend money are eroding.
In an effort to boost the economy and help Americans pay their bills, the government is sending out stimulus checks. Many taxpayers have already received checks through direct deposit; for those expecting a check by mail, the IRS plans to send out five million a week, starting with people who have the lowest incomes according to their most recent income tax returns.
"The stimulus checks are effectively advanced tax credits on taxpayers' 2020 returns," says Kogod professor and managing director of the Kogod Tax Policy Center, Caroline Bruckner. "If you're a single or head of household filer, it's up to $1,200. If you are married filing jointly it's $2,400, with an additional $500 for each dependent you have under the age of 17."
Of course, there are limits on who can receive these checks. "As a single person, their adjusted gross income has to be below $75,000 for 2019 or 2018. Married filing jointly is below $150,000, and head of household is $122,500, so it's a targeted cash payout to taxpayers who are most likely not going to have the cash flow to withstand a prolonged economic disruption triggered by the pandemic," says Bruckner. "Folks that have adjusted gross incomes greater than those amounts are more likely to have savings to help them weather this crisis."
While these checks will undoubtably be appreciated by all who receive them, some populations are being left out, and these are likely the people in greatest need of the financial assistance. "Most college students could, in fact, be dependents on their parents' returns, but they are not under 17 years old, so they don't qualify for a $1,200 stimulus payment in their own right, and their parents won't get the $500 stimulus payment for having them as dependents," says Bruckner. "It's not just college students—it's families that have to claim older parents on their returns too."
Stimulus payments aren't the only form of financial assistance that the government is offering. Much is being done to help the small businesses owners who were told to close their doors to help curb the spread of COVID-19. "On average, most small businesses only have 15 days of a cash buffer, and small businesses employ half of our labor force," explains Bruckner. "A tax credit or deduction is not going to help a small business recover from this. They're going to need actual cash infusions from the Small Business Administration (SBA) payroll protection program (PPP) and the other SBA loan programs that have been beefed up to count money out to small businesses as quickly as possible."
Even with the loan programs that are meant to help small business owners stay afloat and provide paychecks to their workers, they need more. "It's already become clear that this is not going to be enough," says Bruckner. "The maximum loan is $10 million or a certain percentage of payroll—and that's not going to be most businesses—but you get enough businesses who qualify for that amount, and even though there is $350 billion, that goes pretty quickly."
And, indeed, the original loans have already been completely depleted. "Congress passed legislation authorizing more money for the program–and that's almost gone too," says Bruckner. In an article for The Conversation, she explains the monumental task the SBA is facing in saving America's small businesses.
The "mom and pop" shops are the businesses that are in dire need of financial assistance, but the criteria for businesses to participate in the paycheck protection program skews toward larger payouts for bigger companies. Chains such as Ruth's Chris Steak House, Shake Shack, and several other public companies received massive loans. With greater sums of money going to the largest companies, the money quickly dissipated.
"Ninety percent of women business owners have revenue below $100,000 a year," says Bruckner.
Yet, Shake Shack—a company that generated $595.5 million in revenue in 2019—received $10 million. The company has since announced that it will return its loan to give smaller businesses an opportunity to make it through this tough financial time.
"Every day the situation is becoming more dire," says Bruckner.
Thousands are protesting stay-at-home orders, effectively risking their health over fear for the economy. President Trump has argued that the "cure" shouldn't be worse than the problem, while the majority of Americans are desperately trying to keep their loved ones safe.
Bruckner finds comfort in knowing that our government has been responsive to the massive numbers of unemployed Americans and suffering businesses. "Our economy is resilient, and no one knows how this is going to turn out, but I think it's encouraging to see Congress setting aside political differences to pass multiple bills to respond to this crisis," she says.
During a time of great uncertainty, it is more important than ever for Americans to come together (distantly) so that we can continue to work toward a solution that keeps our communities sustained and unified.