Washington Board of Trade Jim Dinegar joins Kogod School of Business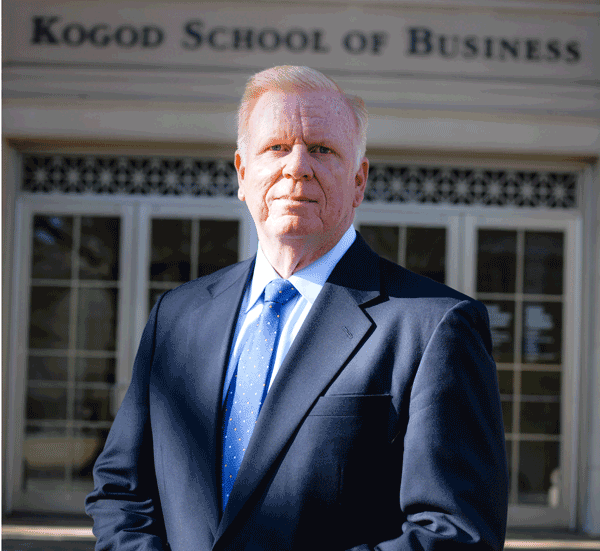 American University's Kogod School of Business announced today that regional business leader Jim Dinegar will join Kogod on February 1, 2018. Mr. Dinegar will direct the school's Center for Business in the Capital. The Center is designed to provide relevance and value to the regional business sector by leveraging Kogod's academic resources.
John Delaney, Kogod's Dean, stated that: "We set out to create a Center that connects this excellent university to the regional business community in meaningful and valuable ways. By bringing Jim on board, who served as President and CEO of the Greater Washington Board of Trade for over a decade, we take a big step towards delivering on this promise."
The Center directorship came at an opportune time for Mr. Dinegar. "When his family's situation changed, Jim needed to make some adjustments, too," Dean Delaney added. "This opportunity to direct the Center is custom-made to capitalize on his experience as a leader in the region's business community."
Mr. Dinegar noted that the Center for Business in the Capital is "exactly the right Center for American University. There is much to be gained by engaging more of our talented students in an inspiring experiential learning environment. I am proud to join this prestigious institution. I look forward to building on the good work Erran Carmel started, and I thank Bob Kogod for his strong and continued support elevating American University."
Mr. Dinegar brings extensive knowledge of Greater Washington's business community, having worked through the recession; sequestration; administration changes; critical transportation issues; economic development strategies; and ongoing business initiatives, among other challenges.
Greater Washington D.C. Biohealth Firm Research
By Erran Carmel
June 23, 2017

In 2016, Business in the Capital began looking at the success of the regional biohealth firms -- especially in exports. Here we share some key foundational data from this study to date. See the bottom for our partners and our research methodology.
The Greater Washington D.C. is one of the major clusters in biohealth, but is usually placed well behind San Diego and Boston. Some counts have these clusters at about 1000 firms in each. But note that company census studies vary widely.
In our study, the Greater Washington D.C.'s number of regional biohealth firms is 306 firms, of which, Maryland has 270 firms and Virginia 36 firms (data for DC firms, which is assumed to be a very small number in this industry, were not collected). Of the 306 firms, 53 are not headquartered in this region (17%). The firm categorization appears in the charts below. Of the companies in therapeutics, the top three foci are cancer, infectious diseases, and "other"(other can include products such as laboratory equipment).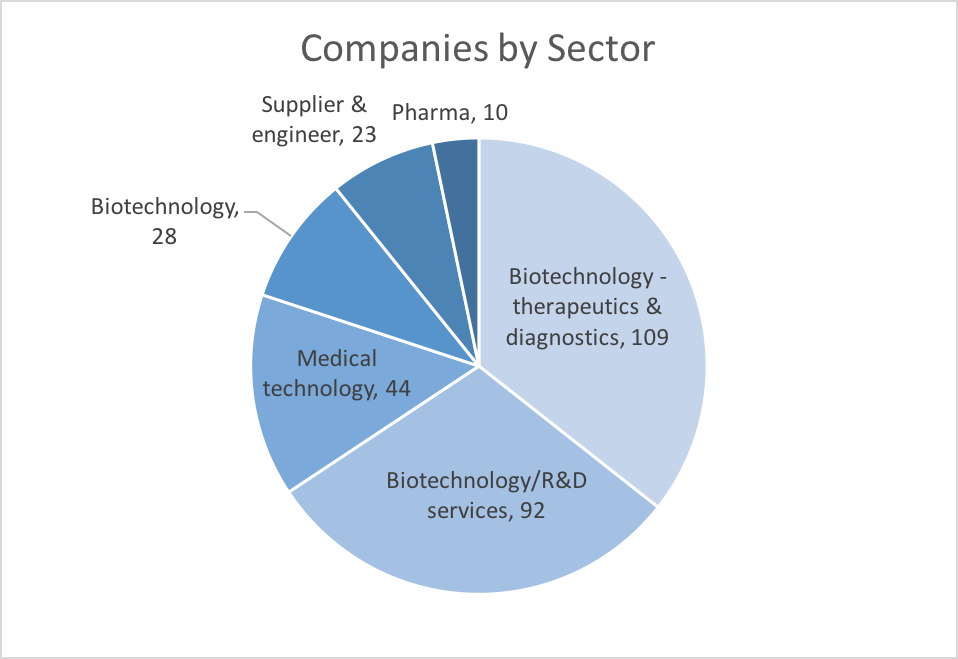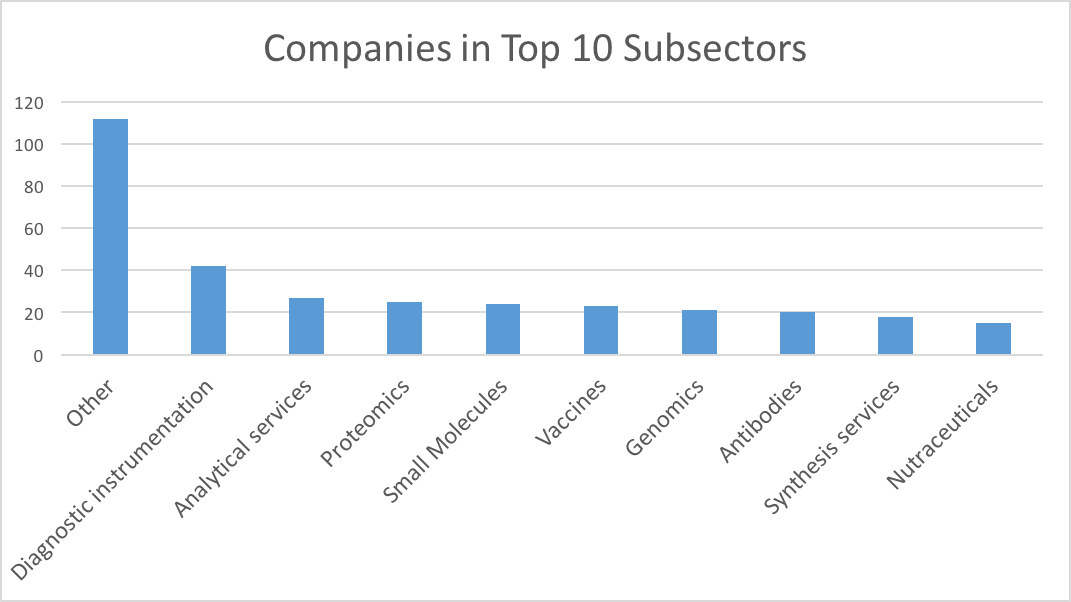 Market Readiness
About a third of the firms aren't selling anything quite yet. Out of the 306 firms, 108 firms, or 35%, have products that are in development.
Exporting
Only 39% of firms are exporting (but the unknowns on this is relatively large, at 15%). As would be expected, the largest firms are more likely to export than the smaller firms (68% to 31%). Virginia firms (though much smaller in numbers) are more likely to be exporting.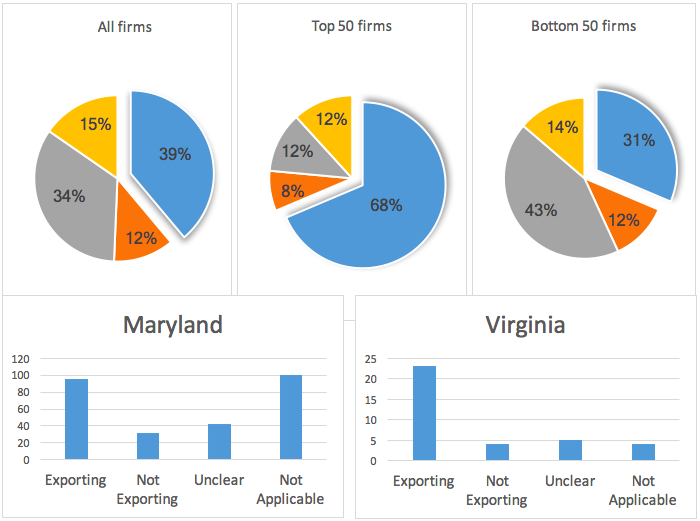 Methodology
The study combined the Maryland Chamber of Commerce (MCoC) Website BioHealth Companies List and the Virginia Biotechnology Association (VaBio). The lists were obtained in September 2016, and a small number of firms were added opportunistically. We see this number as being close to a census, but not as exhaustive. There is no company census that we are aware of. In total, we captured 330 firms. We eliminated firms with less than 3 employees. 306 firms remain with at least 3 employees.
Study Team
The team is led by Erran Carmel, Professor & Director Business in the Capital Initiative at the Kogod School of Business, American University. The team is also joined by Dr. Amar Bhat, Vice President of Open Health Systems Laboratory. The Lead Graduate Assistant is Taylor Tippett, an MSc student, Biotechnology. The study was initiated by the Global Cities Initiative (GCI). The Advisory committee includes: John Cavanaugh, David McDonough; Bob Sweeney; Richard Bendis; Jarrod Borkat; David Gencarelli, and Lily Qi.
---
4 Big Takeaways from the 2017 Kogod Greater Washington Index: Millennials
By Emily Anthony
May 26, 2017

The region has a lot of millennials - but they did not grow up here and may not stay.
The Greater Washington region enjoys a large population of millennials, and is ranked #2 among the top 20 metro regions in the US - second only to San Francisco and just past Boston. More than half of millennials (58%) coming to the region are from out of town, and come here for job opportunities, personal growth, and well paying work. Although other areas continue to be a competitive playing field for millennials, what the DC region has to offer continually attracts this growing sector of the workforce.
The ranking is based on a relative (100%) greater metro region in the US. For instance, cities like San Diego and Atlanta hit the average mark. These cities, along with the top 20 cities compared, set the benchmark.
Jobs, money, and housing are major
The three largest areas of concern in the report are job availability, salary levels, and housing affordability. According to the report, job availability was the only area out of the 33 factors researched labeled as an "extremely important" to millennials. The major reasons for living in the greater washington region are congruent with this need: on average, close to half (49%) of millennials in the area cited the reason for living in the area is due to securing a job in the region.
Along with jobs, well-paying jobs are the second most important factor for millennials in the greater washington region. Interestingly, those who make over six figures consider pay just as important as those making less. This makes sense - as many moved to the region for work in the first place. While millennials enjoy a region with 20% higher salaries than other cities on average, there are still challenges with being able to afford housing.
While cities typically have higher housing costs than non-metro areas, the greater washington region has housing prices that are two times more expensive than the national average. The unease of being able to afford a home doesn't change significantly from region to region, or from salary level to salary level. Across the board, millennials do not feel like they are able to afford a home in the area - on average, only about 29% of millennials feel confident that they can afford to purchase a home.
Ease and versatility of commute are troubling
Millennials prefer to live close to their jobs, but that is not an easy thing to do in the greater Washington region. Compared to the national average (62%), only 43% of commuters in the area are able to get to work in 30 minutes or less. And while the region has a plethora of alternative commuting opportunities, including the Metro, bikesharing, bus, or carpooling, more than half of commuters in the area decide to drive by themselves. Although the area has sources to help alleviate traffic, millennials think it's still expensive and time consuming to get to work in the region.
Millennials are not very committed to the region
While many millennials arrive here for work, many are willing to relocate for work outside of the area. For the half of respondents that live in the area because of jobs, most (78%) are willing to leave the area for better job opportunities elsewhere.
While the area does a great job of attracting millennials, something needs to change in order to keep them in the area.
---
3 Things We've Learned from a CEO who runs a Billion-Dollar Enterprise Headquartered in the Washington Area
By Emily Anthony
May 16, 2017
Earlier this April, David Trone of Total Wine & More in Bethesda, Maryland came to the Kogod School of Business to speak about Leadership and Entrepreneurship. David co-founded a wine and beer selling business from the ground up and turned the company into a $2 Billion-dollar enterprise. Here are the top 3 things we learned from his speech:
Get ready to fail
There are a lot of ups and downs in business, and one thing that aspiring entrepreneurs need to be prepared for is to fail. According to David, failure is often a stepping stone for growth, development, and later success. Being able to handle a downturn and be able to take away a piece of knowledge from the overall experience is crucial to overcoming future difficulties and challenges.
DC Businesses are no strangers to understanding and utilizing challenges. Despite challenges like shrinking office space, businesses in the metro region are thriving.
Remember your 3 C's
The 3 C's model, according to David, is important because it allows a business owner to keep focused on the important things when it comes to running a company: the Customers, the Competitors, and the Corporation.
Customers come first in the model because everything the company does needs to be customer-centric: finding out what product or service the customer needs, delivering a great experience, and finding the right people to deliver that service is paramount.
Competitors come second. What is company up against? Use that knowledge to stay ahead of the curve. "What is that company doing that you can do better? What do you see them doing that you suck at?" David remarked. "Find out, use that information, and most importantly, do something about it."
Once Customers and Competitors have been taken care of, then it's time to focus on the corporation - but focus on the long-term. Don't focus on quarterly earnings, rather, focus on where you're going 5, 10, 20 years from now.
Work your butt off
Trone knows that hard work is the key to success, and attributed the success of his business to the mountain of hard work he put in. Outwork your peers and you'll get noticed - the ones that show up everyday and put in the work will get to where they want to be.
In fact, the DC Metro region is the 3rd hardest working city in the country.
About Total Wine:
Total Wine & More is a Family-Owned Corporation located in Bethesda, Maryland. Total Wine is the largest independently-owned retailer of wine in the country.
---
Metropolitan Washington as an Incubator for Startups
By Emily Anthony
February 24, 2017
In late 2016, Fosterly - an entrepreneur community here in Washington -- came out with a census on new businesses and startups in the DC region. We point out a few items from that report.
First, there is a surge in startups, with 25% starting up just last year. What is making the area so attractive to these new businesses, and what challenges will they face in 2017 and beyond?
Second, based on the data, it looks as if startups are shifting the dynamic of Washington Metropolitan region from a largely public sector workforce, to a dynamic and diverse group with differing ideas and aspirations. This fits the trend of the growth and needs of the millennial workforce in the region.
And, third: much of the talent that become startup founders… is homegrown. Check out this bar chart:
Source: http://fosterly.com/wp-content/uploads/2017/02/2016-Fosterly-Census-Report-digital-3.pdf
Speaking of talent, these companies are looking to hire and the local labor markets are tight. An important way for these startups to find quality employees is recruiting full-time positions through colleges, and providing internships. Eighty three percent of these companies are looking to hire - most looking to hire between 2-10 employees. Additionally, 66% are offering internships - most planning on bringing in between 2-10.
The fourth item is a sign of the time: the startup location. 28% of these startups are turning to shared office spaces in order to conserve cost.
Source: http://fosterly.com/wp-content/uploads/2017/02/2016-Fosterly-Census-Report-digital-3.pdf