Media Mentions and News Features
MEANS DATABASE – CNN
Maria Rose Belding, AU student and founder of Incubator Venture MEANS Database, is featured as a CNN Hero. MEANS helps divert food from the trash to local emergency feeding services with the ease and speed of the internet. Read more about their featured work here: https://edition.cnn.com/2018/07/19/health/cnnheroes-maria-rose-belding-means/index.html
GREATER WASHINGTON PARTNERSHIP – PRESS RELEASE
We are so proud to be working with the Greater Washington Partnership as we continue our mission of creating opportunities for student success. Thank you for including us, GWP!
http://www.greaterwashingtonpartnership.com/wp-content/uploads/2018/06/201806-GWP_Press-Release_Capital-CoLAB.pdf
BARBARA BIRD – THE HILL LATINO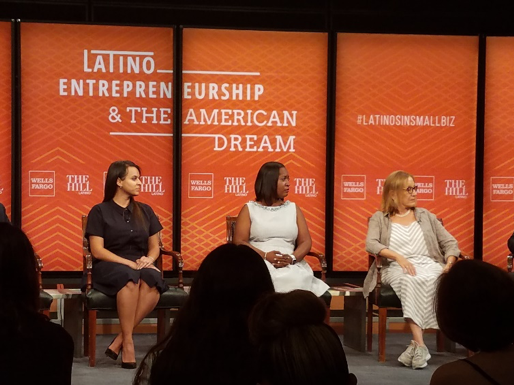 Emeritus Professor and AUCI affiliate Barbara Bird discussed her research on Latino entrepreneurship at The Hill Latino's event last week!
ENTRPERENEURSHIP ARTICLE BY AU STUDENT – THE AMERICAN SPECTATOR
Great article by a current AU student about entrepreneurship in the transportation sector here in DC.
https://spectator.org/scooters-save-the-day-in-washington-d-c/
STEPHANIE BOROSHOK MIT AWARD
Congratulations to rising sophomore Stephanie Boroshok for winning the individual medal in the NHH Summer School course's MIT CleanStart simulation! Stephanie will be the Program Leader for the first Complex Problems entrepreneurship course this fall. To check out the simulation, see: https://mitsloan.mit.edu/…/si…/cleanstart/Pages/default.aspx
ARZO – CBS NEWS RADIO
Esra Ozturk's interview by CBS Radio aired last week to four million people! Listen or read here, as she talks about her first venture and new book.
http://www.banmilleronbusiness.com/cbs-radio-reports/arzo/
AU STUDENTS IN NORWAY FOR NHH SUMMER ENTREPRENEURSHIP COURSE – FB PHOTO ALBUM
https://www.facebook.com/media/set/?set=a.466926493748596.1073741834.220971225010792&type=1&l=a01f451657
SIRI TERJESEN'S PAPER – FEATURED BY IZA WORLD OF LABOR
AUCI Director Siri Terjesen's article is featured on IZA World of Labor!
https://wol.iza.org/articles/conditions-for-high-potential-female-entrepreneurship
MARIA FIGUEROA-ARMIJOS – JOURNAL OF BUSINESS ETHICS
We are happy to share that Maria Figueroa-Armijos, AUCI Affiliated Faculty, has had her most recent paper published in the Journal of Business Ethics! This journal is rated #1 in business ethics, and is in the top 50 business journals according to Financial Times.
The paper is very interesting and timely, and is worth a read! You can find it here:
https://link.springer.com/article/10.1007/s10551-018-3932-0
MARIA ROSE BELDING/MEANS DATABASE – GLAMOUR MAGAZINE
Congratulations to Maria Rose Belding, co-founder and executive director of AUCI Incubator venture MEANS Database, for being named one of Glamour's 2018 College Women of the Year! Read more about Maria Rose and the other 2018 college women of the year here:
https://www.glamour.com/gallery/meet-glamours-2018-college-women-of-the-year
MAX POINTS – WASHINGTON BUSINESS JOURNAL
Max Points, a student venture in our incubator, has been featured by the Washington Business Journal.
https://www.bizjournals.com/washington/news/2018/05/14/this-d-c-startup-thinks-it-can-prevent-employee.html
WOODSON STEAM CORPS – ABC 7 NEWS (WJLA)
We are so proud of the work that faculty Kathryn B. Walters Conte, Jonathan Newport, Kristof Aldenderfer, and others at AU are doing with area high school!
https://wjla.com/features/spotlight-on-education/au-teaches-dc-high-school-students-how-to-develop-design-unique-products
CORPORATE GOVERNANCE DEVIATION ARTICLE BY SIRI TERJESEN – HARVARD LAW SCHOOL FORUM
AUCI Director Siri Terjesen and co-authors in this week's Harvard Law School Forum—how a firm's entrepreneurial mindset and other factors lead firms deviate by under-conforming (falling short) or over-conforming (exceeding) a country's corporate governance norms.
https://corpgov.law.harvard.edu/2018/04/22/corporate-governance-deviance/
MILLENIAL NAIL BAR – SHARK TANK
We are excited to announce that AUCI entrepreneur KaDeadra McNealy has been selected to audition for Shark Tank with her venture Millennial Nail Bar DC! To follow KaDeadra and others, see: http://sharktankdiversitytour.com/dc/
STOKING AN ENTREPRENEURIAL SPIRIT – AMERICAN UNIVERSITY MAGAZINE
Read all about AUCI in this month's American University Magazine.
https://www.american.edu/magazine/article/stoking-an-entrepreneurial-spirit.cfm
MILLENIAL NAIL BAR – HERCAMPUS
Thanks HerCampus for sharing AUCI Venture Millennial Nail Bar's story!
https://www.hercampus.com/school/american/entrepreneurs-au-millennial-nail-bar
UPACE – AMERICAN INNO
Rachel's upace was one of the first ventures established in AUCI's Incubator- congratulations on the tremendous success!
https://www.americaninno.com/dc/dc-startup/with-upace-2-0-this-d-c-fitness-app-is-expanding-beyond-college-campuses/
SIRI TERJESEN – THE CONVERSATION
Happy International Women's Day! Read about our Director Siri Terjesen and Suffolk U co-authors' research on gender diversity in boardrooms across the U.S. – states that give women more personal freedoms have higher shares of female directors.
https://theconversation.com/very-few-women-oversee-us-companies-heres-how-to-change-that-91302
VALENTINA BRUNO – FINANCIAL TIMES
AUCI affiliated faculty Valentina Bruno's research is featured in today's FT:
https://www.ft.com/con…/c6df7af2-1c9f-11e8-956a-43db76e69936
STARTUP CENSUS – FOSTERLY
AU is #4 of the "Top 21 Founder Universities" in the 2017 Fosterly Founder Census Report for greater Washington DC, sandwiched between Harvard and Duke.
http://fosterly.com/home/census/
MEANS DATABASE – ABC 7 (WJLA)
Thanks WJLA for featuring AUCI venture MEANS Database!
https://wjla.com/features/spotlight-on-education/american-university-student-who-co-founded-food-rescue-database-wins-scholarship