The Kogod Experience Expand learning beyond the classroom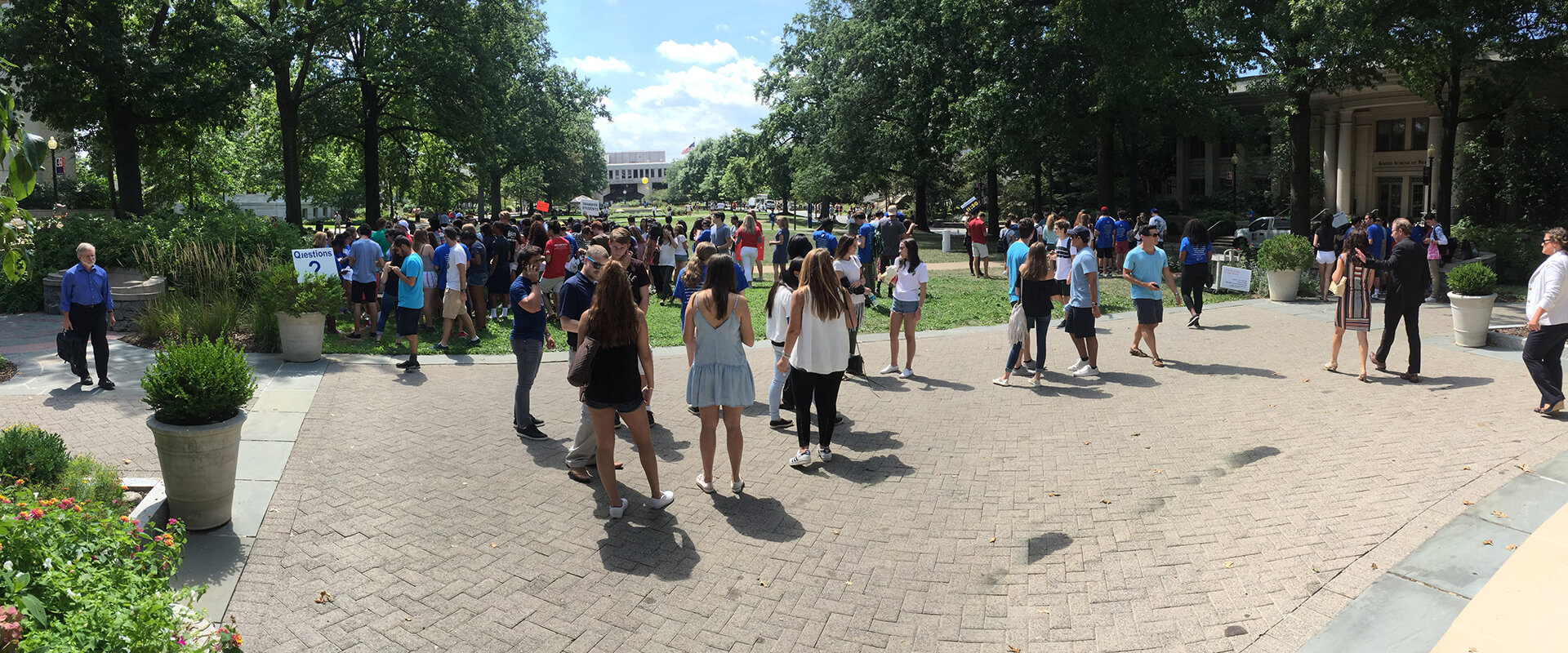 Kogod programs, events, clubs and organizations are a great way to get involved, meet other business students, and apply your leadership and management skills.
The first step to creating your experience is to explore our website and learn about opportunities.
Kogod Kickoff
Kogod Kickoff provides the opportunity to meet undergraduate and graduate students from across Kogod, student-run club and organization leaders from business-focused groups, and staff from Kogod or AU offices. The Kogod Kickoff takes place in mid-September.
Clubs and Organizations
Providing comprehensive and streamlined services for student organizations enhances the club experience and allows them to be more effective. Kogod works with the AU Student Activities Office and provides targeted advising for Kogod student organizations in officer training, event planning, goal-setting, organizational behavior and more.
View Kogod clubs and organizations »
Kogod Case Competition
The Case Competition is one of the premier annual events hosted by Kogod. Case competitions are an excellent opportunity for all AU students to sharpen their communication skills, case analysis, presentation style, and problem-solving techniques. Every February, approximately 200 students compete and 60 business leaders participate as judges.
Making a Difference is Our Business
The "Making a Difference is Our Business" program provides opportunities to give back to the D.C. community each month. Volunteers have worked with multiple nonprofits, including Washington Parks & People, D.C. Central Kitchen, Loaves & Fishes, the Capital Area Food Bank, and more.
Leadership Education and Development (LEAD)
The LEAD program offers club leaders professional development resources and opportunities to help them maximize their student leadership experience. From workshops on organizational development, financial management, and more to retreats every semester, there are plenty of ways for students to develop their personal and professional leadership skills.
Dish with the Dean
Each month, students have the opportunity to enjoy lunch with Kogod's Dean John Delaney. The lunch is a unique opportunity to have an interactive conversation with their Dean. Students may discuss Kogod, work, current issues in business, a book they're reading, or anything else on their mind. Dean Delaney provides insight into the school and his role.
Support for Professional Development
Supporting opportunities for professional development gives students ownership of their experience. By providing assistance to students through the Education Enhancement Fund, they can attend programs such as career fairs, leadership development opportunities, conferences, external case competitions, and more opportunities around the world. We can ensure that our students are beginning to apply their knowledge from the classroom in real-world settings.
New Student Orientation for Residential students
All residential graduate students have an orientation designed specifically for the programs they are entering in August. A hybrid approach, students are introduced to Kogod services through a series of webinars which are complemented by in-person experiences the week before classes begin.
For full-time MBA students, the multi-day intensive program introduces students to their program curriculum, their classmates, and faculty while they begin working in teams for a mini-case competition. For MS students, each academic program creates a unique experience for new students before classes begin. For all new students, they'll receive additional information about their specific requirements and schedule over the summer or in early January depending on when they begin their studies. Click here for more information.
Getting Started Guide
As part of the American University and Kogod communities, you will engage with several university departments for administrative support or to find out about additional services and resources available during your time at AU. Click here to see a list of offices, services, and general information to help you start your time with us as a successful member of our communities.
online students
Students enrolled in our online programs can participate in many of the events, programs, and activities planned by Kogod. Contact individual event organizers or departments to learn how to get involved.
Eagle Summit Orientation
Kogod encourages its undergraduate students to take advantage of all American University has to offer, including an array of programs, events, and clubs that enhance their learning experience.
While Eagle Summit is planned by AU's Office of Orientation, Transition, and Retention, Kogod takes time with our new students to introduce them to the exclusive resources and service we have available. All new Kogod students are required to participate in Eagle Summit. Learn more.
Academic Welcome
The Academic Welcome is new Kogod students' formal welcome to the community and where students hear remarks from the dean and receive a gift from Kogod. Each first-year student is also assigned a mentor who will be their Teaching Assistants (TAs) in Business 1.0 (KSB-100) and contact them during the summer. The outreach continues throughout the fall semester to answer questions about Kogod or AU.
The Academic Welcome takes place on the Friday before classes begin in August.
---
In the Kogod School of Business, we believe that the notion of education should be extended beyond the classroom to include experiential learning that will enhance our students' intellectual development, leadership ability, communication skills, and professional self-confidence. That's why we have activities that allow students to experiment with valuable professional skills in real world settings are developed and supported.
Develop an understanding of characteristics that foster successful collaboration in a variety of settings.
Learn more about yourself and in the process, identify future opportunities that suit your interests, skills, and style.
Improve your organization skills and successfully manage time commitments by balancing co-curricular programs with other responsibilities. Practice project management through student leadership roles.
Kogod Student Leadership Councils
The Councils bring together students who are committed to the mission and values of the Kogod School of Business to act as liaisons between Kogod faculty, staff, administration, and their fellow students.
2019-2020 Graduate Council
Accounting: Yi Xu
Analytics (Residential): Rui Huang
Analytics (Online): Bethany Creel
Finance: Doreen Addy
MBA (Residential 1st Year): Trinity Sheppard
MBA (Residential 2nd Year): Nigel Buoga
MBA (Online): Christina Colasanto
Marketing: Jake Mania
Marketing Analytics (Online): Sunny Bentley
Real Estate: Mengyue (Dean) Li
Sustainability Management: Kira Austin
Taxation: Vacant
2019-2020 Undergraduate Council
Accounting: Nieko Gallo
Business Administration: Jaycie Risch
Business Administration: Bria Howard
Business Administration: Joe Gerig
Business Administration: Vacant
Business and Entertrainment: Sydney Weltman
Business, Language, and Culture: Alexandra Gholi
Finance: Gabrielle Inzone
Interested in a vacant position? Interested in joining the council for the 2020-2021 academic year? Candidates should exhibit eagerness for a leadership role, persuasive or charismatic speaking style, and/or are respected by their peers. Learn more and email Andrew Toczydlowski with your resume at andrew@american.edu.
The Kogod Experience Culminates in Commencement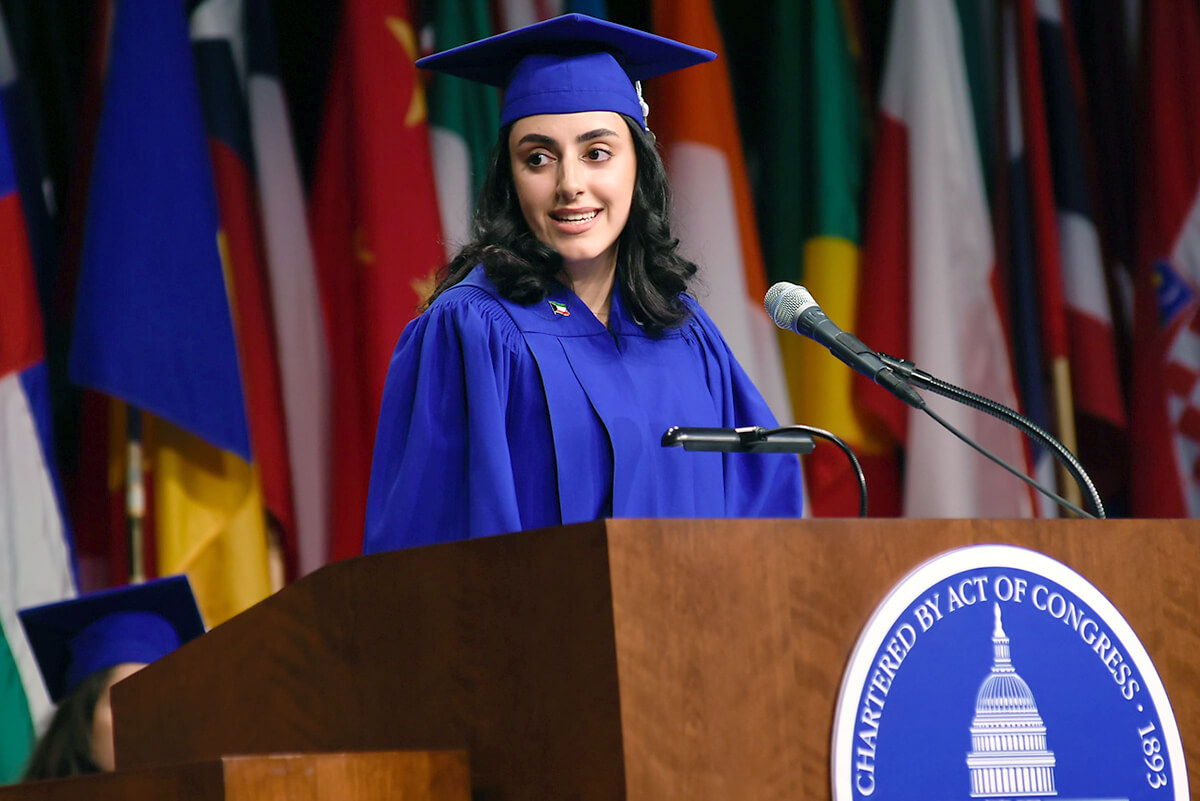 Kogod graduates leave prepared for today's challenging business environment.
For graduating and continuing students alike, commencement activities offer a time to pause, recognize past accomplishments and look forward to the future. The Kogod staff works hard to make this a memorable and moving event for students and their guests.
Kogod coordinates the Student Speaker selection process for the May ceremony (the process typically begins in February and ends in March) and organizes Kogod Commencement Events like the post-ceremony receptions in December and May.
View Information about Commencement »
Questions?
Feel free to email us directly with any questions, comments or concerns.

Andrew Toczydlowski

Director Student Development and Services KSB - Kogod School of Business

Shari Pattillo

Associate Director of International Student Development KSB - Kogod School of Business

Kelsey Wali

Coordinator, Student Development KSB - Kogod School of Business