Contact:
Lanan, Laura
Program Coordinator, AU Honors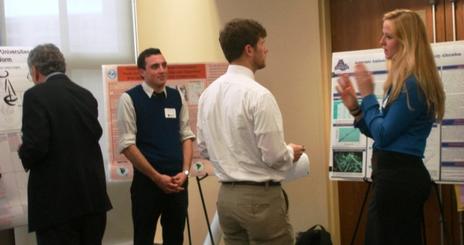 American University encourages students, with the support of faculty mentors, to engage in research, to present their research efforts at conferences - on and off campus - and to submit their work for publication. The AU Honors Program has gathered a range of resources available to support students engaged in research. You will find information about available undergraduate research grants, campus and off-campus conferences and other presentation opportunities, and avenues for publishing student research.
AU Summer Scholar and Artists Program

American University, through the Office for Undergraduate Education, provides support to encourage undergraduate research. Students interested in conducting research or pursuing creative projects, with the support of faculty mentors, are encouraged to apply for an AU Summer Scholars and Artists Fellowship. You can find links to school-specific summer programs and answers to FAQs here. 

AU Undergraduate Research Travel Grants
Students presenting their work at conferences may apply for funds to partially defray the costs of registration and travel. The awards, which are available through the Office of the Vice Provost for Undergraduate Studies, include $300 for regional conferences, $500 for national conferences, and $800 for international conferences. For more details, check out the research funding opportunities site.
Honors Capstone Research Grant
Each semester, the AU Honors Program awards grants to Honors students for research and other projects leading to the completion of the Honors Capstone. These competitive awards are determined on the basis of Capstone projects' merit and feasibility, and the expected impact of the grant on the successful completion of the Capstone. To be eligible, Honors students must be registered for the Honors Capstone project in the semester in which they apply for grant funding. Applicants are required to attach to their application a brief letter of support from their Honors Capstone advisor. Funding is available up to $500. You can complete an application here.

Conferences
American University encourages students to participate in undergraduate research conferences and other major academic events, on and off campus, as ways to enhance their overall academic experience. These events offer the opportunity for students to share their research and/or creative work and to practice their presentation skills, which can translate into valuable experience for their future endeavors. Conferences and major academic events also provide the chance for students to learn more about the latest research or creative work in a given field, as well as access to important networking opportunities.
Each school and college annually offers at least one research conference or other major academic event on campus and invites student participation, with eligibility varying by event. Individual schools and departments will update their websites with current conference dates and deadlines as information becomes available.
To find opportunities for presenting undergraduate research at conferences across the country, please visit the National Conferences on Undergraduate Research Web site.