Student Success Story
AU's Mock Trial Team scores impressive wins at invitational tournament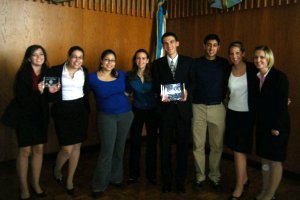 American University's  Mock Trial Team competed over fall break  in the Coast Guard Academy Guardian Invitational, finishing in the top five among 22 competing college and university teams. The results are extraordinary, especially given that AU's Mock Trial Team, founded in 2008, is just entering its third season and the event held in New London, Connecticut was the team's first Invitational Tournament.

The AU Mock Trial Team actually consists of three individual teams whose lineups vary each tournament. The two groups who travelled to Connecticut were highly representative of the university, including students from all five schools and four graduating classes. Both teams competed in four trials over the three-day tournament.

Honors student Eric Fleddermann, SIS '13, served as captain for the A team at this tournament, which ranked third of 22 teams participating Fellow Honors students Sarah McIntosh, SPA '13, and Samantha Sandfort, CAS '13, were co-captains for AU's B team at the Invitational, which placed fifth among the 22 collegiate competitors.

In mock trial competition, students assume the roles of lawyers and witnesses and construct a case based around a particular lawsuit. The case in question for last month's tournament was a liability case involving a child who ingested a toy created with a chemical that decomposed into GHB, commonly known as the "date-rape drug." The student lawyers wrote questions to ask the student witnesses, preparing both direct and cross examinations while tangling with the rules of evidence for court proceedings.  
Witnesses refined their character, making sure that they acted in a both convincing and engaging manner. Preparing and delivering opening and closing statements, the team worked together to solidify the arguments against other teams' competing cases. By trying both the defense and plaintiff sides of the case, each team gained valuable experience for the next tournament.

Team A plaintiff attorney Jessica Lagomarsino, KOGOD '12, rated AU's performance at the Invitational to be "a pretty good job," especially considering the AU Mock Trial Team's relative inexperience.

Along with AU Mock Trial Team's top ranking among individual teams, its student competitors won many individual awards, making the AU's overall team the invitational's only competing team to receive honors in every individual category.  

AU Mock Trial Team individual award winners include Aileen George, CAS/SPA '11 (Witness, Second Place), Marianne Johnson, SPA '13 (Witness, Second Place), Malea Otranto, SPA '14 (Plaintiff Attorney, Second Place), as well as Honors students Will Maner, KOG '13, (Best Witness in entire competition), Sarah McIntosh (Best Plaintiff Attorney in entire competition), and Amy Whitelaw, SPA '12, (Defense Attorney, Second Place).

Organizers of intercollegiate mock trial competition expect that by participating in trial simulations in competition with teams from other institutions, students will develop critical thinking and public speaking skills, as well as knowledge of legal practices and procedures.  Based on their experience at last month's invitational, AU participating students can attest to the value of mock trial competition.

AU Mock Trial Vice President and Honors student Amy Whitelaw, SPA '12, loves the AU Mock Trial environment and sense of camaraderie.

"Not only does [AU Mock Trial] provide me with a competitive outlet and a place for me to learn more about the law, which I love, but it provided me with a family.… We study together, we compete together, we travel together … My teammates have become some of my closest friends and have created one of the strongest networks of support I have on this campus."

SPA Professor Jessica Waters (CAS/SPA '98, Honors; and WCL'03), a lawyer and coach of the AU Mock Trial Team, also sees the great benefit of such competition for students.

"Competing with the Mock Trial team provides a tremendous learning experience for the team members," Prof. Waters says. "Not only do they learn the fundamentals of trial practice, but they also hone their public speaking skills and really learn to think on their feet when responding to tough questions from judges.

"The student teams worked incredibly hard to earn this impressive distinction, and I could not be more proud.  If you know any of these Team members, please take time to congratulate these students!"

The AU Mock Trial Team's "A" Team at the Invitational included:  
Participating  Honors students
Eric Fleddermann, SIS '13
Liz Rademacher, SPA '13
Amy Whitelaw, SPA '12

Other AU students
Aileen George, CAS/SPA '11
Kaizad Irani, SPA '12
Marianne Johnson, SPA '13
Jessica Lagomarsino, KOGOD '12,
Malea Otranto, SPA '14


The AU Mock Trial Team's "B" team at the Invitational included:
Participating  Honors students
Emma Horvath, SIS '14
Will Maner, KOGOD '13
Sarah McIntosh, SPA '13
Sarah Prostko, SPA '14
Samantha Sandfort, CAS '13

Other AU students
Brad Barbour, SPA '13
Laura Friessnig, SPA '14
Annie Reilly, SIS '14
Jen To, SPA '13