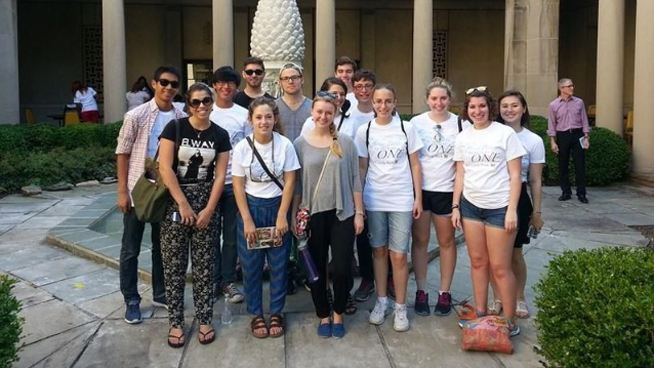 Why American University?

American University believes that talented, motivated students want choice and opportunity, and so we provide multiple pathways for you to do cutting-edge thinking, innovation, and scholarship. Whatever your path, AU is an inclusive community that connects you with classmates, faculty mentors, and opportunities-in the nation's capital and across the globe-that you can make your dreams a reality.
AU is a Learning Community
What will your path include? Maybe you are thinking about whether you want to serve people around the world, conduct cancer research at NIH, or break news from the halls of power. At AU, you may explore the possibilities by pursuing a project with a leading researcher in the field, becoming a leader in the university community, or immersing yourself in a pivotal experience through an internship or study abroad. The AU experience helps you to weave together different perspectives and disciplines into an approach that contributes not only to advancing knowledge but also to a professional profile that reflects the unmatched opportunities of Washington, DC.
Fulfilling Your Ambitions
No matter your path at AU, we'll be there to support you as you develop the wisdom and connections you'll need to realize your dreams. As a national leader in study abroad, internships, career mentoring, and competitive merit awards, AU will provide you with access to experts and resources that will assist you in fulfilling your ambitions.
Will you want to engage in research early upon arriving at AU or lay the groundwork for an interdisciplinary, creative, or professional capstone project? Will you pursue Honors in your major? Will you meet your faculty mentor at our Sophomore Pathways event?
Sometimes higher education is less about what you want to do and more about discovering who you want to be.
AU will provide the pathway that works for you.