Contact:
Ashley Barnes
Senior Coordinator, AU Cornerstone
AU Cornerstone
4400 Mass Ave, NW
Washington
,
DC
20016
United States
Michal Klempka
Internship: Crouch & Crouch Law Office
December 4, 2019 | Time for my last blog post as a Cornerstone DC Student Ambassador. My time in the program is coming to an end. Four long months of pain, sweat, and hard work—with some occasional fun and drama thrown in the mix as well. Before I start reflecting on the past let's get into some last-minute updates on what's happened since my last post.
First off, at my internship, I am continuing to work on three cases: one involves the divorce of two people, another is a will in which I will be a witness, and the third involves a 16 year old girl who is pregnant and the grandparents have custody. It's really interesting to work on these cases with my boss, who I hope is satisfied with my work. Recently I've focused more on writing case summaries. I only have two days left at my internship. I hope to make those two days worth it and finish off strong. Make my boss proud!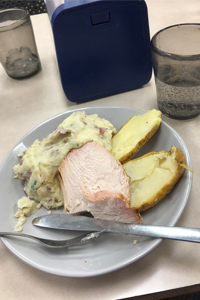 Thanksgiving break just happened, and that was extremely exciting. I got to see family, friends, and dance every day for 5 days straight. I got to go to two Friendsgiving and one Thanksgiving. One had pizza, one had turkey, and one had waffles, so I really had a wide variety of foods to eat. I'm thankful to have celebrated a joyous occasion. Lastly, I got to fulfil my geekiness by playing Pokémon Shield for numerous hours.
One thing I forgot to do these past couple of weeks is watch this new series on Disney + called The Mandalorian. It's a really good TV series with a character by the name of Baby Yoda. Watch the show, it's great. Just don't finish watching it before I do.
Now, time to reflect on the past 4 months. I've met numerous people, some of them are now my friends while others aren't. And that's okay. I've had some great experiences including dancing on tables in a crepe store past midnight, seen many bands/rappers live in concert, and I've learned a lot about law. I've learned to draft legal documents, conduct legal research, write legal briefs, perform organizational tasks, and gained an understanding of law in practice. A lot of stuff.
If I had the chance to take part in Cornerstone DC, would I do it? Of course I would! If not for the program, I wouldn't know all the intelligent and unique individuals that I now know. I wouldn't be a part of a unique community of students. I wouldn't get the professional experience I now have, which will benefit me so much in the future. I wouldn't have matured as a person and become the adult I am now. For all the prospect students/prospect student parents out there, yes, it really is worth it!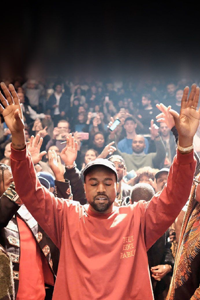 Michal Klempka
Internship: Crouch & Crouch Law Office
November 11, 2019 | What's good everyone? Its your boy Me-how, straight outta the Midwest coming at you again with another blog update. Its that time of the month again to write a blog post 30 minutes before its due. I'm starting to think why I was even chosen for this blog job in the first place (bruh). Anyway, let's talk about what I've been doing.
First and foremost, is my internship. It's been super lit(or awesome for those who don't get internet slang), especially since I got an A on my midterm. My boss, thought that I did a fine job but that I still have a lot to work on. But hey, yuh boy got that A, so it's all good. For the cases I was working on before, well, I'm still working on the same cases please read post #2). I'm still working on case summaries and probably the only new thing I've been doing is going to civil court cases (and criminal court cases when I'm feeling more serious). That's basically it.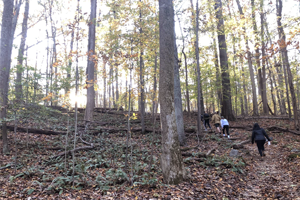 School wise, we chillin. So far, I have almost all A's except in Stats but that is subject to change very soon (hopefully for the better). I got an A on a presentation on Cultural Appropriation, in my Intercultural Understanding class which I'm actually extremely proud of. We took the least amount of time on our presentation and got the most compliments from our professor (shout out to prof Oetgen).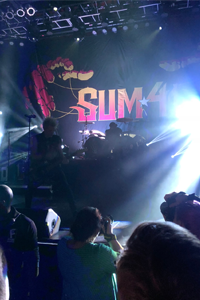 Now the most fun part of my life here, the fun stuff. Dance has been going pretty well. I'm going to learn some Polish dances this week and I've already learned a gypsy dance called Opa chupa. That's definitely not how it's spelled but anyway, I've been to more concerts. This time I diversified my music taste and went to see Sum 41, which is a pop punk rock band. I went by myself but it was still absolute fire (also slang). On Halloween, I was not planning on doing anything so I just said, "Imma do it." So, I texted my friend Gargi and bought two tickets to the one and only Sosa: Chief Keef. The Chicago Rap Legend himself. It was so much fun. It felt like home in a weird way.
Moreover, this last weekend, I did a bunch of amazing stuff. I got to see The Lighthouse (super weird) and Jojo Rabbit (super weird). I give both 5/5 stars. I would definitely recommend. Stop reading and go buy tickets RIGHT NOW.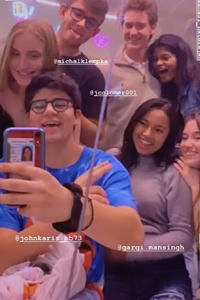 Done, ok, I also got to go to Crepeaway which is a crepe place in Dupont Circle that's open pretty late every night. It's very nice cuz they play music and allow you to dance on the table. Issa really awesome combo: crepes and dancing.
Lastly, I got to go to Great Falls National Park on Sunday with a couple of my friends. I would definitely recommend if you're looking for a place to get away from the city. To get back to nature, to your roots. It was a real breath of fresh air.
In the end, it might not seem like it because it looks like I live a playboy life in my blogs, but the last two weeks in specific have been an emotional rollercoaster but really it's all for the best. I kept my head up and that's what matters.
Thanks for reading and cheers from Leonard Hall Floor 6!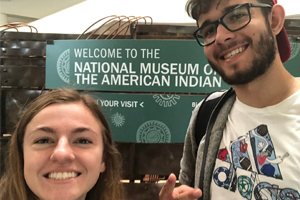 Michal Klempka
Internship: Crouch & Crouch Law Office
October 14, 2019 | Hey what's up y'all? It's Me-how here with a quick update. Last few weeks have been a rush. Like literally. So much stuff. Parents weekend, homework, internship, and other really fun stuff that I'll elaborate on now.
First and foremost, school work and classes. Everything's gone pretty good so far. All my classes are chill. I had my first math exam last week, and I think I got an A. I did get an actual A on my Personal Cultural Analysis Essay (for my intercultural understanding class) two weeks ago, and as far as I know I'm the only one that got an A (Y'all already know how it is!). Most recently I got to go to the National Museum of the American Indian, with one of my good friends (shout out to Martina Beggy!) for an assignment also for my intercultural understanding class. It was really fun and eye opening to look at their history in our country and beyond. I really hope to visit again when I'm not on a 90 minute time constraint. But that's what happens when you procrastinate (not actually). I just missed the original day along with Martina because of that stats exam I mentioned earlier. I have been pretty on top of my game excluding my WMP ambassador blogs. At the point of writing this sentence, I have 2 hours and 10 minutes till submission. Pretty good to be honest, I submitted my last essay 10 minutes before its due time so were already on the way to improvement. Update on the residence hall thing, I'm now a delegate for Leonard so, really happy with that!
Alright, on to my internship. If you haven't yet noticed, I'm trying to get the less fun stuff out of the way first before talking about the exciting stuff (you're welcome). I've recently been working on three cases, one regarding the divorce of two people, another regarding writing a will (in which I will be a witness), and a third in which a 16 year old girl is pregnant and grandparents from part of the family have custody of her (and all the problems that come with that sort of thing). It's really interesting to be working on all these various cases hands on with my boss, who I think is satisfied with the work I put in (hopefully). Also, next week I have lunch with my boss at The Capitol Hill Club which I'm really excited for. So yeah, its awesome!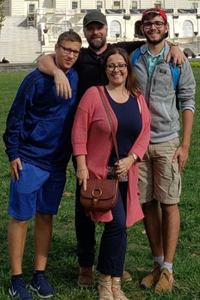 Moving onto bigger and better things, I got to see my parents and my big brother (actually younger, I just like to call him that because he looks older than me). My brother has never been to DC before so it was really fun showing him around. I got to show him the Washington National Monument, the Lincoln Memorial, the Capitol Building and the Arlington Cemetery. I also got to go to Polish Church with them, which was nice, because I haven't gone together with them in a long while (and I also didn't have to take the 50 minute metro ride, which was very satisfying).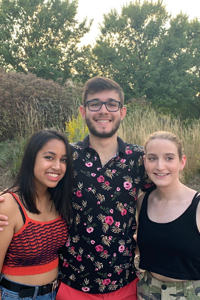 Finally, the magnum opus of my recent experiences. The Yung Gravy: Experience the sensation tour concert featuring Bbno$, savagerealm, and TrippyThaKid (who was so bad. The other three were sensational (ha see what I did there!)). I got to go with almost all my friends, at least those who like hip hop, and it was the best concert I've been to so far. Probably, because it was my first time in a mosh pit (nice). Well, yeah, that's it for today's blog post. I'll be back with more in a while or so. Ight, peace out!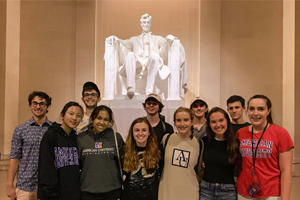 Michal Klempka
Internship: Crouch & Crouch Law Office
September 23, 2019 | What's good y'all? My name is Michal Klempka. I'm a freshman at American University and my intended major is International Studies. I'm a Chicago native but I've lived in the suburb of Park Ridge the past 4 years. Fun fact, I live in the same Neighborhood that Harrison Ford and Hillary Clinton grew up in. I'm super excited about AU and being part of Cornerstone DC. You can imagine that Washington, DC is not much of a change compared to Chicago, but that's where you're completely wrong. It's so hot here. I don't think I've ever sweat so much in my life. But other than that, from what I can tell so far, DC is amazing and super fun.
The reason DC has been so fun is that there's so much to do. Getting to see the monuments at 1 AM at night was really awesome but Tenleytown isn't so bad either. I've recently joined a European folk dance group called Carpathia, which seems like it will be a lot of fun even though practices are on the other side of DC.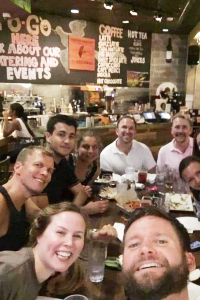 I've been adapting to life at AU pretty well. My floor is undoubtedly the best floor on campus (Leonard floor 6 BABY). I'm running for General assembly delegate of Leonard hall, so if you can please vote for me. I'd really appreciate it. Ok, now let's talk about the food. TDR is not as bad as people say it is. I haven't really encountered any bad food. Go out and try it, it's really not that bad.
So far the classes have been easy, but they've started to ramp up. Just yesterday (Wednesday September 18) I had to write an 8 page essay, a 3 page essay and finish a college writing assignment in less than 8 hours. Luckily, I did finish everything but I'm gonna need to start working harder in the future so that I can keep up with all my assignments and balance classes with my internship.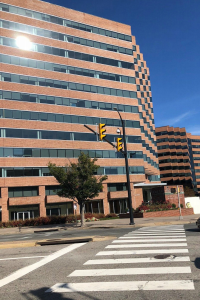 Internship wise, I just started this last Tuesday (September 17) at the Crouch and Crouch Law Office and it went really well. I spent the day watching Police body camera footage related to a case and taking notes on the videos. It was interesting to watch a crime scene from the views of a variety of police officers. Other things my internship includes that I will probably end up doing in the near future: clerical work, court errands, legal research, talking to potential witnesses, and drafting legal pleadings/contracts/court orders. I am doing lawyer stuff, which I enjoy! I can't wait for the upcoming months of the program!