Contact:
Ashley Barnes
Senior Coordinator, AU Cornerstone
AU Cornerstone
4400 Mass Ave, NW
Washington
,
DC
20016
United States
Interview with Beeta Christine Rafiekian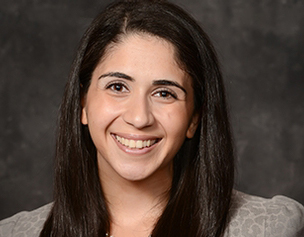 Tell us about yourself.

My name is Beeta Christine Rafiekian, and I am a proud Washington Mentorship Program (WMP) alumna! I graduated from American in 2010 with a BA in International Studies and Law & Society. During my undergraduate career, I had the opportunity to do four internships, including the one I began during my time as a WMP student. After college, I spent a year and a half working at the US Department of Defense before taking on a position as Executive Director of Nowruz Commission, a global non-profit organization based in DC.



Where's home?

Orange County, CA and Potomac, MD



What high school did you attend?

Santa Margarita Catholic High School, CA



Why did you choose to come to D.C.?

As a Southern California girl, I thought coming to DC would expose me to a different culture and give me the opportunity to grow personally and professionally. I'm glad to say, I was right!



Why did you choose the Washington Mentorship Program?

The program is like nothing I had ever heard of before, and I thought it would be such an amazing experience to get right in the internship world as a first-year undergraduate. I couldn't pass up the opportunity to focus not only on academic success, but also professional development.



What was your major at AU?

Law and Society/ International Studies



What are you passionate about?

Helping people is my passion. I try to find ways to do so in whatever I do.



What was your childhood ambition?

To become a lawyer



What is your career ambition?

I aspire to a career in public service.



Where was your internship and what did you do there?

I interned at the Office of Legislative Counsel at the Department of Defense (DoD). I did mostly administrative work, but was also able to assist in the preparation of documents for a Congressional subpoena.



What did you do after WMP?

After WMP, I continued interning at DoD for the rest of the school year. I spent the next year and a half interning at the National US-Arab Chamber of Commerce, the White House, and the Overseas Private Investment Corporation (consecutively). In the spring of my sophomore year, I returned to Tenley Campus to participate in the Washington Semester Program's International Law and Organizations Seminar, during which I was able to spend two and a half weeks traveling across Western Europe. I spent my last two years at American working as a Program Assistant and Orientation Coordinator at the Washington Mentorship Program Office -- I wanted to give back to the program that had given me so much.



What are you doing now?

I am currently still involved with the Nowruz Commission, a global multicultural non-profit public diplomacy organization, which was created to bring together the many countries and communities that celebrate the arrival of Spring as New Year (Nowruz), and to use that platform of togetherness to do good.



What was your favorite experience in the program?

My favorite experience in the program was actually the group projects we did as part of our Cross-Cultural Communication final exam. Each group was required to look into one of AU's programs which related to Cross-Cultural Communication. My group studied the International Student and Scholar Services department, and was able to tie the work they were doing to the theories we had learned in class about culture shock. Once all the projects were complete, each group presented to the class about their findings, and it was a great way to not only have a practical application for what we were learning in class, but also to learn about the different programs AU has to offer.

On another note, even after 9 years, my best friends are still the ones I made during this unique program; being able to connect so deeply with my peers and making friendships that will last a lifetime is probably my ultimate favorite experience from my time at WMP.



What do you do for fun in D.C.?

As cliché as it may sound, I actually love going to the monuments, especially at night or on a nice spring day. Otherwise, I spend my weekends catching up with friends, going out to dinner/movies, and doing all the errands I don't have time for during the week!



What inspires you?

Feeling like something I am doing is helping someone else really inspires me. It also inspires me to be around other people who are passionate about what they are doing.



What is your favorite quote?

"To live long and achieve happiness, cultivate the art of radiating happiness." - Malcolm Forbes



What is your favorite quote?

"To live long and achieve happiness, cultivate the art of radiating happiness." - Malcolm Forbes



How did WMP change your life?

WMP changed my life because it gave me the opportunity to jump-start my career and begin building resume experience as soon as I arrived in DC. The Mentorship Program helped me transform from a young-adult with no work experience to a young-professional ready to enter the workforce.