Contact:
Ashley Barnes
Senior Coordinator, AU Cornerstone
AU Cornerstone
4400 Mass Ave, NW
Washington
,
DC
20016
United States
Interview with Emily Roseman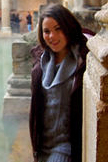 Alumna Name

Emily Roseman, WMP Alum 2012



What was your major?

Broadcast Journalism



What school did you attend?

School of Communication



What are your passionate about?

I am passionate about journalism, news, politics, and arts.



What is your career ambition?

I want to be to be an editor, work in production, or political correspondence.



What did you do after WMP?

After WMP, I went on to work at The White House, and then spent the summer working at MSNBC in New York City. My junior year I studied abroad in London where I worked with a production company on documentary films. My final year at AU I was given the honor of a Dean's Internship through SOC where I spent my time as a video editor at USA Today.



What are you doing now?

Upon graduation I moved back home to Connecticut and began working as a producer/editor at ABC News in New York City. I spent 2 years on the video team working for all the major shows (Good Morning America, World News and 20/20). I learned a lot at my first real job and cherish the time growing up and getting my feet wet. I left ABC News after 2 years to begin a career at the Associated Press and moved back here to DC. I now am a Producer for AP Television where I get to create and pitch video stories and I am in charge of producing video that is used across the country and the entire world. My day is completely different day to day but I get to work with a team of brilliant and esteemed journalists for the largest news organization in the world.



Why did you choose WMP?

I still credit WMP for giving me the chance to get my feet wet my first moments on campus. Day one upon moving into my dorm I was given my first internship, something many of my friends never had the ability to do. I feel that internship was my jumping off point to where I am today.



What was your favorite experience in the program?

Meeting so many different students from various backgrounds. Getting to intern my very first semester in college was thrilling and allowed me to feel a part of the real world far before I thought I would be able to.



What do you want the world to know about WMP?

It's a program to be cherished and celebrated for its ability to differentiate extremely hardworking and impressive students from the rest of the campus. With internships offered your first moments on campus, to real life examples of your course work right at your front steps. The WMP is a special group of people whom I credit all my successes with.



What was your favorite course of study?

Journalism and anything in International Studies. I've been able to implement mediation courses I took that focused on global issues in real life work situations to this day.



What did you do for fun in D.C.?

Monument visits, dozens of restaurants, art exhibits.



Who was the biggest influence on your WMP experience?

The professors in the program were a big influence on my experience. They were helpful, kind and always willing to put the success of their students first.



What is your favorite quote?

"I like nonsense, it wakes up the brain cells." - Dr. Seuss



How did WMP change your life?

WMP changed my life in more ways than I could ever say. From meeting the students I still call my best friends, to having the rare success at my age of 24. WMP gave me the ability to set myself apart not just from the students at AU, but the millions of other ambitious college students who wanted to excel just as much as I did. I worked hard, was given the tools I needed and the push in the right direction with WMP. I will forever credit this program with my ability to make a name for myself in the world of journalism. For that I am extremely thankful. Also for the fact of introducing me to my soon-to-be husband, also a former WMP student!