Interview with Sophia Pappalardo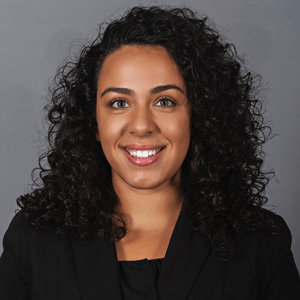 What was your major?

International Studies; Spanish language and area studies
 

What school did you attend?

School of International Service; College of Arts and Sciences
 

What are you passionate about?

I am passionate about race relations, traveling, the arts, and the Buffalo Bills.
 

Your career ambition?

My career ambition is to have a legal career. I would like a sophisticated legal career that will allow me to both work on complex legal issues, and complete pro bono work relating to the community and race relations.
 

What did you do next after Cornerstone DC/AU?

After I participated in Cornerstone DC in Fall 2011, I joined the University Honors Program, and went on to intern for the Dept. of State, and Congress. I also was on the executive board for AU's Black Student Alliance from 2013-2015. I concluded my AU academic career by studying abroad in Havana, Cuba.
After graduating from AU, I took 2 years off from school to work in New York. During that time, I worked as a paralegal, traveled, and applied to law school. I recently moved to North Carolina to attend law school at Wake Forest University School of Law.
 

What are you doing now?

I am currently in law school at Wake Forest University School of Law in Winston-Salem, North Carolina. I plan on working in Charlotte, NC or Washington, DC upon graduation.
 

Why did you choose Cornerstone DC?

I thought that gaining credit for an internship freshman year would be beneficial, setting me apart from the other AU freshman who did not participate in Cornestone DC. I feel that gaining practical experience gave me an "edge," and helped me build my resume and professional skills before many of my peers.
 

Where was your internship and what did you do there?

I interned with the Fishing School, a non-profit organization that runs after-school programs for children in the DC public school system. I taught 1st graders, and then I had my own 4th grade class. We helped the students with math and reading. We also had programs in the sciences, arts, and sports. The Fishing School hired me as an Instructor following my first semester, freshman year internship. I worked with them throughout my time at AU.
 
 

What do you want the world to know about Cornerstone DC?

If taken advantage of, Cornestone DC really will set you apart from your peers, giving you a leg-up in all your future endeavors. After my Cornerstone internship, I interned for the Department of State. I felt that my Cornerstone experiences prepared me for competitive opportunities and internships, like at the Department of State. It also gave me a number of professional skills, interview skills, and interpersonal communication skills. I am reaping the benefits of the program to this day, most notably when I was applying to law school and as I have been applying to competitive law school summer jobs.
 

Favorite course of study (Cornerstone DC and/or AU)?

I really enjoyed my course with Professor Easten Law.
 

What did you do for fun in DC and on the weekends?

I enjoyed exploring the city and finding local places that tourists do not get to experience.
 

Who is/has been the biggest influence on your AU experience so far?

As a freshman, I had a randomly assigned roommate. She became my best friend, even though we were so different. I would say that she was the biggest influence on my Cornestone DC experience. We are still very close to this day.
 

Favorite quote?

"Our deepest fear is not that we are inadequate. Our deepest fear is that we are powerful beyond measure. It is our light, not our darkness that most frightens us… We are all meant to shine, as children do…It's not just in some of us; it's in everyone. And as we let our own light shine, we unconsciously give other people permission to do the same. As we are liberated from our own fear, our presence automatically liberates others." –Marianne Williamson
 

How did Cornerstone DC change your life?

I feel that it created opportunities for me that I would not otherwise have had as a freshman. It also equipped me with skills that I am using years after I participated in the Cornerstone DC program. It also introduced me to one of my best & life-long friends, and some of the most intelligent and motivated individuals at AU.