Alumni
Cornerstone DC Student Molly Deneen Interns at Generation Hope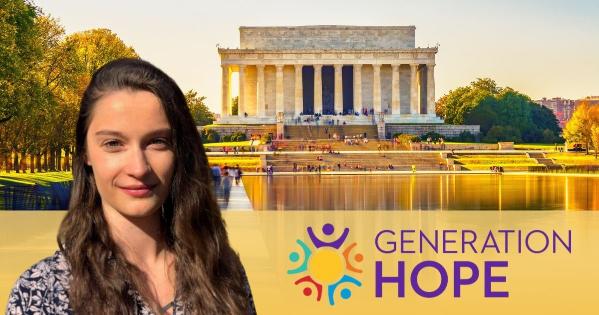 Being a freshman in college is a thrilling experience. In most cases, the student is entering a new environment, meeting new people, and more times than not, entering a new state of mind. Adding an internship into the mix can be an overwhelming, yet rewarding experience. American University's Cornerstone DC Program gives freshman the opportunity to start their professional careers as soon as they set foot on a college campus.
Deneen had not heard about the program until she was offered a spot in the fall class. Now that she has completed the first half of the program, she has seen how it has benefitted her personally and professionally.
The internship class was an especially positive experience for Deneen. The class addressed how to act in professional settings and how to build a resume, skills Deneen will utilized throughout her professional career. Another feature of the class is brainstorming solutions to different workplace scenarios and problems. Deneen uses the skills she is learning in the classroom at her internship with Generation Hope, a nonprofit organization that helps support teen parents attending college.
As an intern, Deneen interviewed a senior consultant at Deloitte and wrote an article about their involvement with the organization for Deloitte's fall newsletter. She also helped with the organization of the tri-annual Wish List program, which provides teen mom scholars with necessities they may not be able to afford. As the internship comes to an end, she is focusing on the success of her independent project. Deneen decided to connect American University with the organization through a tutoring program.
"I decided to create a profile for Generation Hope on American University's EngageNet, which is a database of different organizations and volunteer opportunities for students run by the Center for Community Service and Engagement," said Deneen. Generation Hope provides academic support for its teen parent scholars, and the organization always needs new tutors with specific skill sets. Deneen recognized an organizational need and was able to suggest a solution.
"The independent project allows me to get creative and focus on something I really care about, something in which I want to make a difference," said Deneen.
Deneen stated that her WMP advisor, Donelle Broskow, has impacted her academic and professional career the most. Professor Broskow highly recommended Generation Hope to Deneen because she believed it would be a good fit, and she was right.
"I was lucky enough to get an internship at a nonprofit organization whose mission I am greatly passionate about, and I love going to work every Tuesday and Friday."
Note: The Cornerstone DC program developed from the Mentorship program.