Student Life
Feature Fridays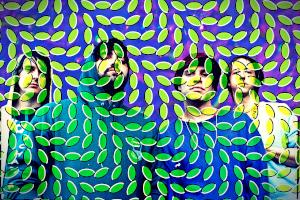 Welcome to Feature Fridays! Every week, the AU music library staff highlights a different CD or artist from our collection. This week, Student Assistant Matthew Francisco reviews Merriweather Post Pavilion by Animal Collective.
Animal Collective, the experimental pop four-piece from Baltimore, is widely known for their radical soundscapes and probing vocal layers. Formed in 2003, the band had a highly influential sound that shaped both the pop and alternative scenes following their inception.
Their most popular album, Merriweather Post Pavilion (named after Maryland's popular forest amphitheater) combines all of their previous exploratory elements and combines them to create an accessible middle ground with a refined sound. As a result, the record has proven to be their most defining work yet.
There are two songs on the record that have come to stand out from the rest. The first official single from the album "My Girls" is a grand, arpeggio-filled soundscape featuring elegant vocals. On the other hand, "Brother Sport" is a psychedelic hit with touches of Afro-Brazilian elements. Apart from these two major hits, the full album is truly a work of art from start to finish. Each track feels similar yet sounds completely different and flows perfectly between each song.
All in all, Merriweather Post Pavilion is definitely worth a listen. Drop by the Music Library to check it out!
If you like this album, you may also like Funeral from Canadian band Arcade Fire and Kid A, OK Computer or The Bends by Radiohead.