On Campus
Have a Back to School Movie Marathon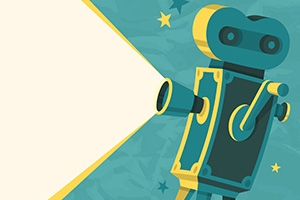 1985—The Breakfast Club DVD 2179
Five high school students/ character archetypes (nerd, jock, princess, trouble-maker, and oddball) are stuck together for Saturday detention in the library. Over the course of the day, the students defy stereotypes and connect on a meaningful level.
1986—Ferris Bueller's Day Off DVD 6126
The ultimate hooky movie. High school senior Ferris fakes sick and convinces his friends to join him for a day of fun in Chicago, including catching a Cubs game at Wrigley Field and crashing a parade float. After all, "Life moves pretty fast. If you don't stop and look around once in a while, you could miss it."
1988—Stand and Deliver DVD 4934
This film is based on the true story of engineer turned math teacher Jaime Escalante. Teaching at a high school in L.A. that is on the cusp of losing its certification due to the poor performance, Jaime develops a creative curriculum and pushes his students to succeed against the odds.
1989—Lean on Me DVD 4935
Another semi-biographical film about a struggling high school; in this movie, Principal Joe Louis Clark (played by Morgan Freeman) takes a tough love approach, attempting to rid the New Jersey school of drug dealers and gang members, while engaging the disillusioned students.
1993—Dazed and Confused DVD 97
Set in 1976, near Austin, TX, this film features a gaggle of high school students on the last day of class. This is also Matthew McConaughey's first film, in which he plays the highly quotable David Wooderson, a hard-partying 20-something still hanging out with teenagers.
1994—Hoop Dreams DVD 1890
This award-winning documentary film follows William Gates and Arthur Agee, two young basketball players from Chicago, as they move through high school and on to college, pursuing their dreams of playing in the NBA. Through their stories, this film raises important questions about race and class.
1995—Clueless DVD 1844
Celebrating its 20th anniversary this year, this film is a riff on Emma by Jane Austen. Spoiled, but kind-hearted Cher Horowitz is pretty, popular, and wealthy. She begins to play match-maker at her school, with some unforeseen consequences, discovering along the way that she enjoys helping others.
1999—Election DVD 3307
Starring Reese Witherspoon as ambitious, uptight, and ruthless high school student Tracy Flick, this satirical comedy is about a student election that goes off the rails. Fueled by his dislike of Tracy, the civics teacher/ election supervisor sets out to impede her path to student body president.
2004—Mean Girls DVD 7929
With a screenplay written by Tina Fey, this film is as clever and funny as you would imagine. When a homeschooled teenager attends public school for the first time, she falls in with a clique of mean girls called "The Plastics," until things take a turn for the worse.
2006—Brick DVD 2253
A high school mystery story told in the noir style of a hardboiled detective tale. When a teenage boy finds the dead body of his ex-girlfriend, he is driven to uncover the truth and the clues lead him into the underside of his Southern California town.