On Campus
Back To School Tips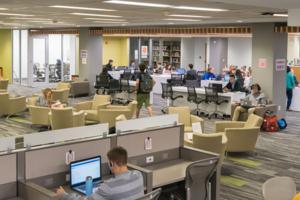 Course Reserves
Copies of General Education textbooks and textbooks that cost over $150 are available for a 3-hour or 1 day loan period at our Circulation & Course Reserves Desk on the first level. Electronic items on reserve can be found through the Blackboard page for your course.
Research Assistance
If you are feeling overwhelmed by the research process, schedule a visit with a Librarian. You can stop by the Research Assistance Desk on the first floor of the Library or access the 24/7 online chat: www.american.edu/library/ask
Subject Specialists
Make an appointment with your subject specialist for personalized help in your discipline. Find more here: www.american.edu/library/specialist
 Academic Support
The Research Commons connects students with campus services that will help during the research process. Find out more online: www.american.edu/library/researchcommons
Media and Technology
The Library has media and technology items available for loan. Visit the Media and Technology Desk on the Lower Level for more.
Print Center
Get your printing done in the Print Center located on the Lower Level. Eagle Bucks and print allowance are accepted for payment. 
Connect with the Library
Follow us on social media @AULibrary for updates on hours, student employment, events, and more!