Student Life
Feature Fridays Homogenic, by Bjork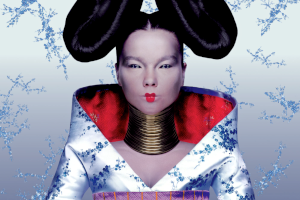 Welcome to Feature Fridays! Each week, AU music library staff highlights a CD or artist from our collection. This week, Student Assistant Jalen Lesly reviews Homogenic by Björk.
Björk is, perhaps, one of the more difficult modern artists to classify musically. Her style has shifted between the many releases of her storied catalogue, featuring vibrant acoustic and orchestral accompaniments to her sometimes sweet, sometimes viscerally raw vocal performances. Genres included in her works include experimental electronic, acapella vocal, trip hop, and even jazz and post-punk (in her side projects, Exodus and The Sugarcubes).
While a critically acclaimed tour-de-force in every aspect, Björk initially shifted toward more avant-garde compositions with her 1997 album Homogenic. Now approaching its 22nd anniversary, the record is considered by many to be her breakthrough album, and is a landmark release in electronic and trip hop music. In 2011, music reviewer Cole Zercoe noted it, "[a]long with Portishead's Dummy and Massive Attack's Mezzanine, Homogenic completes a sort of holy trinity of [the trip hop] musical aesthetic" (Zercoe). Thom Yorke, who would later collaborate with Björk on the song "I've Seen It All" for the soundtrack for Dancer in the Dark, described one of the album's tracks, "Unravel," as being "one of the most beautiful songs [he'd] ever heard" and expressed desire for Radiohead to release a cover of the song (NME).
Homogenic is a beautiful and enthralling experience, unlike any other album, even others by Björk. From the opening track, "Hunter," which begins with spiraling electronic drums and upbeat yet mysterious synth patterns, leading into what may be one of the most suspenseful orchestral parts ever composed for a piece of popular music, to its later pieces, such as "Alarm Call," where Björk's voice reaches a raw point of intensity seldom seen in music of any genre, Homogenic remains to this day an enigmatic and powerful album, one which only reveals more layers of complexity with consecutive listens. (That's to say, 22 years later, it definitely holds up.)
Homogenic is available to loan from the AU Music Library, as are three of Björk's other albums (Debut, Post, and Biophilia), as well as the previously mentioned Dummy by Portishead.