On Campus
Help the Library Compost!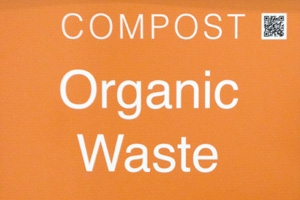 Organic waste compost bins will soon be placed throughout AU Library near the existing stations for trash and recycling. Students who live on campus are already using the new orange bins in their residence halls for compostable waste that was previously sent to landfills. Following up on the success of composting in the halls, the University will be adding these bins to academic and administrative buildings across campus. The library is at the forefront of this next step towards achieving zero waste on campus.
More than half of the trash currently produced in the library is actually organic waste that can be composted and reused. Anything organic—paper products, food waste, compostable containers and dishes—can be put into the new orange cans that will be added to the current "WasteLand" locations in the library. These cans will be located next to recycling bins for plastic, glass, and metal. Those materials cannot be composted and should still be put in the proper bins to help keep the library as sustainable as possible.
The organic waste bins will be emptied daily by Aramark staff—just like the current trash bins. Any organic waste will then by shipped off campus to a composting facility that can process all organic waste, even that which cannot be incorporated into home composting. There, it will be turned into a nutrient rich soil amendment. This initiative will require some small changes in behavior, but it will help the campus further reduce our waste footprint.