On Campus
Composting 101: Help AU Get Greener with this Primer on Composting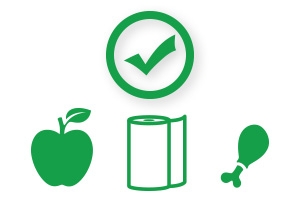 Since the program's inception in 2012, the Library has played a pivotal role in expanding the organic waste collection program across campus. Library personnel participated in the pilot phase of compost collection. In spring 2013 the Library maintained its leadership by being the first academic building on campus to deploy the now ubiquitous orange bins on campus. Today, the Library's organic waste stream is one of the least contaminated of those in campus buildings.
Unfortunately, due to the increased contamination of organic waste collection bins across campus, the University's composting program is struggling. When non-organic materials such as glass or plastic bottles are tossed into compost bins, the organic waste cannot be composted safely and efficiently. As a result of the high level of waste contamination at AU, local waste processing facilities neither have the capacity nor desire to process the University's organic waste. Helen Lee, the University's Zero Waste Coordinator, has been working with other parties in the region to find an alternative compost facility. She has also been collaborating with other local universities in similar situations to find alternative solutions to this challenge of contamination. In the meantime, the AU community can improve waste sorting practices to ensure that organic waste collected on campus is not contaminated with other items. Organic waste, which should be tossed in the compost bins, includes materials such as:
paper coffee cups
food scraps
sandwich wrappers
napkins
dishes and utensils labeled 'compostable' or 'biodegradable'
anything made from plant material can be composted
Things that never belong in a compost bin include:
Waste collection bins in the Library have been marked with diagrams to aid in sorting, so if you are unsure where to throw your Subway sandwich wrapper, check the signs above the collection bins. Separating waste now will enable AU to demonstrate to potential new compost facilities that we have a clean stream and will be a good source of organic waste. When all students, staff, faculty and visitors sort trash appropriately into the collection bins, we can achieve the University's zero waste goals.
Green Team Recommendations:
Our fabulous eco films Pinterest page has a great mix of films and television series (including Captain Planet and the Planeteers, if you're feeling nostalgic.)

Both of these resources can help you start composting at home, with details on how and where to set up a bin and the science behind how composting works:

Composting by Bob Flowerdew

Perfect Compost : A Master Class With Peter Proctor

If you're interested in learning more about waste processing in general, and best practices for reducing landfill use, this is an excellent book on the subject:

Lean Waste Stream: Reducing Material Use and Garbage Using Lean Principles by Marc Jensen