Student Life
Cook with AU Library Contest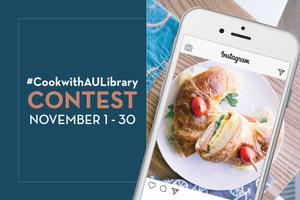 It's time to show off those culinary skills! AU Library invites you to participate in our #CookwithAULibrary Contest! Get inspiration for your dishes by checking out cookbooks from our collection. To enter:
Make a yummy recipe.
Post a public picture on social media using #CookwithAULibrary.
Caption your post with the book title and name of the recipe.
Entries for #CookwithAULibrary will be accepted until November 30th. Stop by the Library to see our cookbook display on the first floor by the Circulation & Course Reserves Desk. You can see what others are cooking up on this social media gallery. Winners will be announced by December 7th. Good luck!