On Campus
Eyewitness to History: Presidential Visits at American University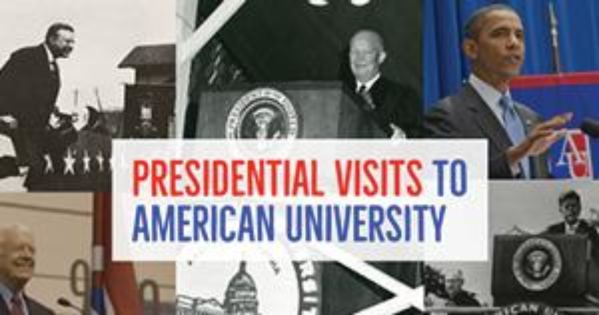 American University Library Archives and Special Collections presents "Eyewitness to History: Presidential Visits to AU." This non-partisan digital exhibition examines the history of presidential visits at American University. Theodore Roosevelt, Calvin Coolidge, Gerald Ford, Jimmy Carter, and Barack Obama are among the Presidents who have visited our esteemed campus.
One of the most historic presidential visits to campus was in 1963 when President John F. Kennedy delivered the 49th commencement address. His speech, "A Strategy of Peace," would become a watershed moment in the history of U.S.-Soviet relations. A memorial is also on campus, honoring this historic moment.
Thirty years later, President Bill Clinton reference JFK's speech in his own address during AU's centennial year in 1993. Clinton would return to campus two more times, once in 1997 and again in 2012. 
Other presidential moments on campus include President Dwight Eisenhower presiding over the original SIS building's groundbreaking in 1957, George H.W. Bush getting exercise on campus during his term as Vice President, and then Senator Barack Obama holding a rally on campus in 2008 before winning the election that November.
The full digital exhibit is available to view here. For more information on our Archives and Special Collections, visit us here.