On Campus
Once Upon a Library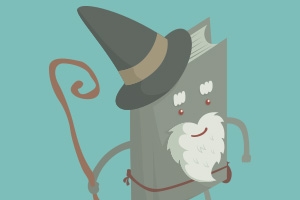 June 24th is International Fairy Day. Delight your inner child with some of the Library's fairytale-related material.
Cinderella, choreographed by Rudolf Nureyev
Filmed at the stunning Opéra national de Paris, this ballet interpretation of the beloved fairy tale will awe you with the dancer's technical expertise, amuse you with hilarious depictions of the wicked stepsisters, and charm you with beautiful sets and costumes.
Into the Woods, directed by Rob Marshall
This star-studded musical fantasy film weaves together story lines from several Grimm Brothers' fairy tales and gives them a dark twist. Meryl Streep took the Best Villain title at the MTV Movie Awards for her portrayal of the Witch in this movie.
Russian Fairy Tales, translated by Norbert Guterman & compiled by Aleksandr Afanasev
Explore the world of Russian folktales in this volume, which collects more than 175 works and enchanting illustrations. Discover the near-immortal Koshchei the Deathless, Baba Yaga, a powerful witch who lives in a hut supported by chicken legs, and a host of other intriguing supernatural figures.
The Turnip Princess and Other Newly Discovered Fairy Tales, by Franz Xaver von Schönwerth
As the title suggests, these fairy tales were unknown until 2009, when von Schönwerth's collection of folklore research was discovered by a Bavarian writer. This collection brings together 72 of these stories, featuring key fairy tale components, such as magical animals, royalty, and quests.
Grimm Legacies: The Magic Spell of the Grimms' Folk and Fairy Tales, by Jack Zipes
If you are interested in a scholarly approach to fairy tales, this text provides an examination of the cultural influence of the Grimm Brothers' work. Zipes also considers how adaptations of these stories have changed over time and how that reflects societal shifts.
The Girl Who Circumnavigated Fairyland in a Ship of Her Own Making, by Cathrynne Valente
Charming story, prose, and illustrations come together in this book, which tells the story of a 12 year old Midwestern girl, whisked away on an incredible adventure to Fairyland. Valente's style calls to mind the whimsy and humor of Lewis Carroll.
Confessions of an Ugly Stepsister, by Gregory Maguire
Fans of Wicked with enjoy this retelling of Cinderella through the eyes of one of the stepsisters. Set in 17th century Holland, this tale blends elements of reality, such as Dutch mercantile culture and portraiture, with fantastic elements drawn from the fable.
Fables: The Deluxe Edition Book One, by Bill Willingham
A collection of fairy tale and folklore figures come to inhabit New York City, after being pushed from their magical homeland by a powerful foe. This volume collects the first two graphic novels in the enormously popular Fables series, giving the new reader an ideal jumping-off point.