Student Life
Fall in love with these phenomenal titles from our collection!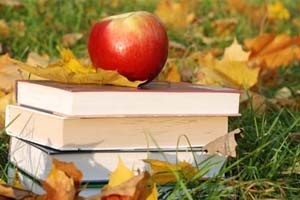 With the weather getting cooler and the leaves changing colors it's the perfect time to get cozy with a great book! Fall in love with these phenomenal titles from our collection!
Autumn by Alice Smith is the first of a series of four novels and tells the story of a friendship between 101- year-old Daniel and 32-year-old Elisabeth amid political turmoil. The novel lapses in time throughout the unlikely pair's relationship. Autumn has been hailed as the "First Great Brexit Novel" by the New York Times.
The Cider House Rules by John Irving was first published in 1985 and tells the story of Dr. Wilber Larch and orphan Homer Wells. Larch is an obstetrician, abortionist, and director of the orphanage where he guides Homer. Once he becomes a teenager, Homer decides to explore the world on his own. The novel was also adapted into a film in 1999.
At The Edge of the Orchard by Tracy Chevalier tells the story of the Goodenough family who settle in the swamps of Ohio in 1838 during the American frontier. The family begins to work the land they have chosen to settle and plant a harvest while trying to keep their family together.
Lila by Marilynne Robinson is the story of the eponymous character who goes from being homeless to becoming a minster's wife. Lila won the National Book Critics Circle Award for Fiction in 2014.
Legends of the Fall is a critically acclaimed novel by the late Jim Harrison. Set in the early 1900's the book tells the story of three brothers who serve in World War I and the aftermath after one brother is killed. The book was adapted into a film and released in 1994.
The Remains of the Day by Kazuo Ishiguro depicts the life of Stevens, a butler who takes the reader on a journey through the eyes of his diary. The book was awarded the Man Booker Prize for Fiction in 1989 and was adapted into a film in 1993. Kazuo Ishiguro was recently awarded the Nobel Prize for Literature.