Student Life
Feature Fridays Kind of Blue by Miles Davis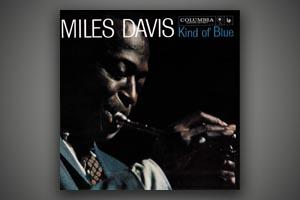 Welcome to Feature Fridays! Every week, the AU music library staff will be highlighting a different CD or artist from our collection. This week, Student Assistant Ryan Jacobs will review Kind of Blue by Miles Davis.
Kind of Blue is not only a universally acknowledged standard of excellence, it also highlights Miles Davis' role in history as one of the great innovators in jazz. William Ruhlmann of AllMusic wrote, "To examine his career is to examine the history of jazz from the mid-1940s to the early 1990s, since he was in the thick of almost every important innovation and stylistic development in the music during that period ... It can even be argued that jazz stopped evolving when Davis wasn't there to push it forward."
The personnel on this album include Miles Davis on trumpet, John Coltrane on tenor sax, Cannonball Adderley on alto sax, Bill Evans on piano (with Wynton Kelly stepping in on "All Blues,"), Paul Chambers on bass and Jimmy Cobb on drums.
Kind of Blue marks a shift in Davis' sound from hard bop (such as is present in Sorcerer, reviewed by Jake Tracey in last week's Feature Friday) to modal jazz. The framework of modal jazz was outlined by composer George Russell in his 1953 book Lydian Chromatic Concept of Tonal Organization (available through consortium loan). It reduces improvisational emphasis on functional chord changes, allowing for different varieties and flavors of solos over long-held chordal palettes. Davis began experimenting with the concept in the title track of his 1958 album Milestones, a year before the recording of Kind of Blue.
The opening track "So What" is instantly recognizable, as it has entered the jazz vernacular as a kind of modal jazz blueprint. And it is not the only one: all of the tracks on the album have been labeled and performed as standards over the years, and stand as a testament to the album's influence. I want to highlight the piece "All Blues" in particular, which showcases Davis' melodic mastery over a 6/8 12-bar modal blues structure.
The AU Music Library has many other albums by Miles Davis, and for more examples of modal jazz, you can check out A Love Supreme and My Favorite Things by John Coltrane.