Student Life
Feature Fridays Soundtrack from The Pianist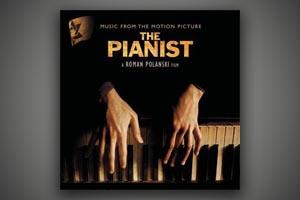 Welcome to Feature Fridays! Every week, the AU music library staff will be highlighting a different CD or artist from our collection. This week, Student Assistant Cami Betchey will review The Pianist, the soundtrack from the 2002 film.
The Pianist is a film made in 2002 by Roman Polanski about a Jewish Polish pianist during World War II. It is a devastating film about loss and the bittersweet gift of survival in the midst of death and losing everything. The pianist, Wladyslaw Szpilman, is one of the most well known and accomplished pianists to perform Chopin in Poland at the time of the occupation. The soundtrack is therefore composed of Chopin works, each of which is meant to break the heart more than the last. Sprinkled throughout the movie the sound track serves to illuminate the viewer to the complex and somber depths of Szpilman's emotions.
The majority of the soundtrack is made up on Chopin's work, mainly his Nocturnes and Ballades. Each of the nocturnes selected are composed in minor keys, in fact only one song on the soundtrack is written in a major key. The whole score has a melancholic tone, yet it is not depressive or difficult to listen to. Like many of Chopin's works, there are moments are happiness that peak through keeping the listener intrigued. The sheer complexity of Chopin's work is also one of the main highlights of this soundtrack. Each of his pieces is so technically complex even the most unskilled of listener can appreciate the difficulty and rigor in just one of these songs, yet it does not feel like a task. Each piece is intricately woven to create fluid melodies that are harmonically challenged. The right hand carries long withheld notes while the left plays complex chords and patterns, just one of the ways that Chopin was so innovative as a composer for piano.
I would recommend this CD for people who enjoy romantic era music or for people who are looking to get into classical music. You would never be bored listening to the work of Chopin, or his romantic contemporaries. The work of Chopin although complex still has a feeling of romance and whimsy about it that makes it enjoyable to listen to. Even if you don't listen to classical music often, anyone would be moved by this soundtrack. It also makes great study music for people who are interested in finding classical music to study with.
The Music Library has over 2000 albums of Chopin's works on CD and streaming, including one with Wladislaw Szpilman at the piano.