Student Life
Feature Fridays Yankee Hotel Foxtrot by Wilco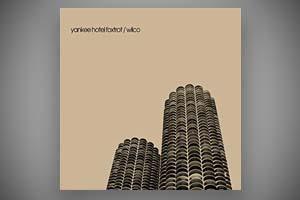 Fronted by alt-folk singer and guitarist Jeff Tweedy, Wilco describes itself as an "eclectic indie rock collective that touches on many eras and genres." This wonderful blend of sounds comes from the diverse backgrounds of its members, from Tweedy to jazz-rock guitarist Nels Cline to experimental multi-instrumentalist Pat Sansone. Nothing about Wilco is straightforward, and nowhere is this more evident than their critically acclaimed 2001 album Yankee Hotel Foxtrot.
The first track on the album is "I Am Trying to Break Your Heart," a somewhat gibberish tale of love and regret.
I am an American aquarium drinker
I assassin down the avenue
I'm hiding out in the big city blinking
What was I thinking when I let go of you?
These somewhat nonsense lyrics eventually amount to a profound resolution by the final line. Many songs on this album have that sort of confusing emotional buildup, but combined with the often-ethereal instrumental sounds, it makes for a unique and delightful listening experience that will make you smile, tap your foot, and perhaps even cry. If you find yourself in need of a musical anchor, listen for the frequent presence of a heavily strummed acoustic guitar. If you find yourself looking for a lyrical theme, don't waste your time; Yankee Hotel Foxtrot covers a wide variety of topics such as love, death, deceit, heartbreak, self-improvement, and war.
The most iconic track on this album is perhaps Wilco's best-known song, "Jesus Etc." Also not to be missed are "Ashes of American Flags," "Heavy Metal Drummer," and "Poor Places." The self-described "rock impressionism" and poetic talents of Wilco shine on Yankee Hotel Foxtrot. It has been my favorite album for just under a decade and I cannot recommend it more.
Yankee Hotel Foxtrot is album 2448 in the Music Library's compact disc collection.