Student Life
Feature Fridays Home of the Strange by Young the Giant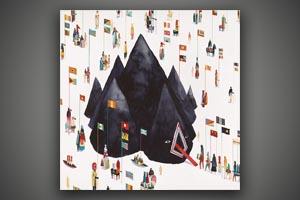 Welcome to Feature Fridays! Every week, the AU music library staff will be highlighting a different CD or artist from our collection. This week, Student Assistant Jacob Tracey will review Home of the Strange by Young the Giant.
Many recent indie pop bands have made their mark in music with good vibes and great hits, but none have been as big and incredible as Irvine, California indie pop outfit Young the Giant. Formed back in 2004, the band's sound was immediately defined by the robust voice of their lead singer, Sameer Gadhia. Their self-titled debut album proved to be a work of pure indie art and their second record Mind Over Matter only furthered that sound in a new way. Both records hold a special place in my heart, but neither of them compares to the beautifulness and story rich album that is Home of the Strange.
Released August 16, 2016, Home of the Strange kept some of the sounds the band had previously forged while also forming some new more experimental ones. It also tackles more personal themes than their previous two records like immigration, coming to America in search of a better life, and relationships. This album especially hits home since Sameer is a first generation American of Indian heritage.
The album opens with "Amerika" which was inspired by an unfinished novel under the same name. The song lyrically tackles Sameer's unmet expectations in America as an immigrant. The instrumentation of this song gives the listener a taste of what's to come in the rest of the record, with an ambient xylophone riff, rocking guitars, and of course Sameer's impeccable vocals. Some of the other highlights on this record I like are "Something to Believe In," which is a more pop sounding anthem similar to their debut album, and "Art Exhibit," which has a gorgeous ukulele riff to open the song and some even more beautiful lyrics to go along with the song.
Overall Home of the Strange is a must listen to album for any indie music head or music lover alike. From the rich orchestrations to the powerful and insightful lyrics about immigration and dreams, there is something for everyone within all eleven tracks. Be sure to come by and give this record a listen!
Check out this and other great Indie records at the Music Library. We suggest Tame Impala and for those who are fans of Young the Giant!