Student Life
Feature Fridays How I Learned to Travel Through Music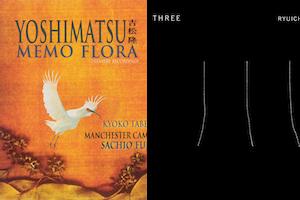 Welcome to Feature Fridays! Each week, AU Music Library staff highlight an item from our collection. While the library is closed, we will feature items that are available for streaming. This week's guest reviewer Andrew Brown, interlibrary loan student assistant, reviews two albums of music by Japanese artists.
Growing up, I was absolutely obsessed with the Summer Olympics. I remember staying up late to watch athletes receive their hard-earned medals, and I would perk up like a poodle when musicians performed big, flashy numbers for their audience. The 2020 Olympic Games in Tokyo, Japan have been postponed due to COVID-19, but students at American University can experience the culture of Japan by visiting Naxos, a music streaming site that makes travel possible without leaving the comfort of home. Here are two Japanese artists that I've been listening to while biding time for the rescheduled 2021 Summer Olympics. 
Takashi Yoshimatsu, Memo Flora
Takashi Yoshimatsu's album Memo Flora guides audiences on a scenic tour of ancient Japan. Yoshimatsu uses strings, piano, harp, and a colorful wind section to depict flowers blossoming and birds soaring through the winter sky. Listeners will experience spring rivers in "Piano Concerto Op. 67, Memo Flora," summer relaxation with "While an Angel Falls into a Doze…, Op. 73.," autumn rainbows through "Dream Colored Mobile II, Op. 58a,"  and snow- covered winters in "White Landscapes, Op.47a." Critics review Yoshimatsu's work as "approachable" and "begs for more listening," making his music a perfect entryway into traditional Japanese aesthetics. Other works on Naxos include "Centaurus Unit," "Atom Hearts Club," and "Kamui-Chikap Symphony."
Ryuichi Sakamoto, Three 
Ryuichi Sakamoto's album Three, grips listeners with film-score magic from Tokyo's most gifted composer. Sakamoto writes music for films produced internationally.Three is a collection of his favorite works arranged for violin, cello, and piano. The album takes listeners through complex emotions like melancholy in "Happy End", joy with "Parolibre," regret with "Bibo no Aozora," and reconciliation with "Merry Christmas Mr. Lawrence." Sakamoto's music expresses daily life. Listeners experience grief, joy, and heartbreak when listening to Sakamoto as if they were actors in one of his movies. Audience members understand daily life when they listen to Three. Other works available on Naxos include "Energy Flow" and "Rain."
Traveling during the age of COVID-19 can be difficult, but music connects people to different locations all around the world. Takashi Yoshimatsu and Ryuichi Sakamoto are two representations of Japanese identity in music. Other representations include music by Joe Hisaishi, Ryo Fukui, Hiromi Uehara, and Maria Takeuchi. Other countries can also be explored through music. Listening to music from other countries can ease stress during quarantine by linking our experiences with the experiences of others. 
You can listen to Takashi Yoshimatsu's Memo Flora and Ryuichi Sakamoto's Three on Naxos with your AU credentials.