Student Life
Feature Fridays Fragile by Yes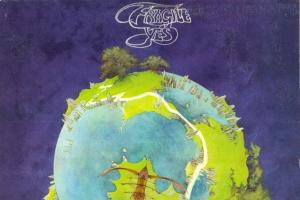 Welcome to Feature Fridays! Each week, AU music library staff highlights a CD or artist from our collection. This week, Student Assistant Jalen Lesly reviews Fragile by Yes.
Fragile is a rather confusing album by a rather confusing band. Yes (the band, not the affirmation), is probably one of the more accessible progressive rock bands of the 70s and 80s, taking various incarnations over the years like many of their contemporaries, such as King Crimson (which Yes' drummer at the time, Bill Bruford, also served a stint in). However, I'm going to say something radical here: Yes' career is best understood not by comparing it to any of their fellow progressive rock bands, but by a much more modern artist who seems to be following a similar career path as of late: Kanye West.
Few other artists have managed to get away with making albums as self-indulgent as Fragile (either incidentally, or otherwise), but Kanye West's My Beautiful Dark Twisted Fantasy comes to mind. Both records are critically acclaimed, yet their self-flagellation is impossible to ignore. The latter is comically overlong and yet wouldn't seem nearly as impressive in stature without its filler tracks, but contains some of the most iconic modern hip-hop songs of the past decade – the former similarly contains several of the most famous progressive rock songs of all time ("Roundabout" and "Long Distance Runaround" to name a few), but it also contains some absolutely baffling track choices, including but not limited to: a cover of a movement from a Brahms symphony (yes, that Brahms), a dizzying minute-and-a-half long song consisting almost entirely of a chanted round, and previously mentioned drummer Bill Bruford's 35-second-long first attempt at a musical composition.
These tracks being included on such a famous record as Fragile is hilarious and confusing (though there is merit to each of them, as is expected from a band of such immensely talented musicians), but is understandable due to recording restraints that arose from spending a large amount of funds on keyboard equipment for then-new member Rick Wakeman. The fact that Yes was able to create an album as good as they did under the circumstances becomes, then, extraordinary, with each of the individually written tracks showcasing each member of the band's talents. A personal favorite is guitarist Steve Howe's track, "Mood for a Day," a solo piece performed on flamenco guitar. The group compositions are sprawling and fantastic as well – "Heart of the Sunrise" runs at 10 minutes 33 seconds and features several musical recapitulations, and yet never feels stale or stagnant. 
Though it may not be as polished or refined as the band's next effort, Close to the Edge, Fragile manages to skirt the line of being enjoyably indulgent and obnoxiously overwrought with careful precision. It's just a shame the band eventually went overboard with Tales from Topographic Oceans – truly the Life of Pablo of 70s progressive rock albums.
Fragile (1971) is available to loan from the AU Music Library, as is Yes Complete, a collection of scores of Yes songs from a number of different records. Kanye West's My Beautiful Dark Twisted Fantasy (2010) is also available to loan from the AU Music Library if you prefer that sort of thing.