On Campus
Greg Smith Sound Effects Collection Presentation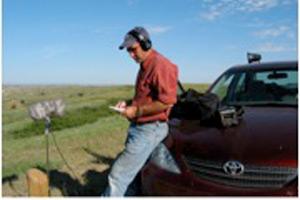 On Thursday, September 15, the library and School of Communication will come together to introduce and celebrate the Greg Smith Sound Effects Collection, a resource comprised of 1450 sound effect tracks recorded by SOC adjunct professor Greg Smith of the course of his career in film and television.
Greg Smith Sound Effects Collection Presentation & Reception

Hosted by: University Library & School of Communication
September 15, 2011, 2:35–3:15 PM
Ward 2
Greg Smith has over 25 years of experience making films, and has traveled the world extensively as a location sound recordist, among other roles. While working on set for major studios such as Lucasfilm, he eventually amassed a large private library of sound effects, which he later used as part of his thesis project as an MFA student at AU.
The Greg Smith Sound Effects Collection is derived from the highlights of this thesis project, and includes unique sound effects of wildlife, vehicles, ambiences, and a wide variety of other things that go "bump" in both the day and night.
In providing this collection to the University Library, Smith has requested that his sound effects be shared openly for the benefit of filmmakers and video and audio producers around the world.
For more information about the Greg Smith Sound Effects Collection and to access its tracks, please visit the Media Services webpage.