On Campus
We All Scream for Ice Cream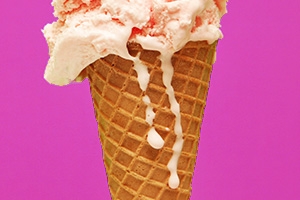 These steamy summer days may have you wilting, but they do make cooling off with a frozen treat even more satisfying. July is National Ice Cream Month, so curl up with one of these titles and a towering cone of sorbet, frozen yogurt, or ice cream.
Of Sugar and Snow: a History of Ice Cream Making by Jeri Quinzio (Ebook)
Frozen desserts have a longstanding history as popular confections. In this book, Quinzio starts with the partially frozen wine slushies that became popular in 16th century Italy and brings the reader along on an exploration of the social history of ice cream.
Sweet Carolina by Foy Allen Edelman (Ebook)
Even if you don't own an ice cream maker, Edelman's overview of North Carolina confections offers plenty of frozen treats that are easy to whip up on a hot summer day, like Coffee Ice Cream, Orange Icebox Cake, and Frozen Strawberry Pie.
Pure and Modern Milk: an Environmental History since 1900 by Kendra Smith-Howard
While most consumers know that ice cream, butter, and cheese are produced with milk, there are many other commercial uses for dairy by-products, like the milk proteins used in house paint and bath soap. Howard's investigation of the historic use of dairy products is an illuminating look into this industry.
Perfect Scoop: Ice creams, Sorbets, Granitas, and Sweet Accompaniments by David Lebovitz
This cookbook is a Library employee favorite—and for good reason! While most of the recipes require an ice cream maker, many do not (like the Nectarine Granita and Watermelon Popsicles.) Lebovitz offers a mix of classic and unusual recipes (think Saffron-Pine Nut) with clear, easy to follow instructions.
Ice Cream Time by Nick Didkovsky (streaming music)
The record label categorizes this album as Classical/Electronic, but the weird, complex, discordant, and highly textured sound of these computer-meets-instrumental compositions make this difficult to fit neatly into any genre category.
Ice Cream Reporter (Ejournal)
As the CEO of a highly successful multinational ice cream corporation, you are no doubt wondering how to keep up with the latest industry news. Worry no more—AU Library subscribes to "The newsletter for ice cream executives."
Ice Cream Wars (streaming video)
When Häagen-Dazs was introduced to the UK, the dominant force in the ice cream market was Wall's, a company that had been producing vegetable fat based ice cream since the days of dairy rationing during the World Wars. This BBC video explores the marketing strategy and struggles of the upstart brand.