On Campus
Celebrate LGBTQ History Month with These Library Selections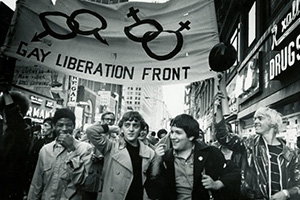 October is LGBTQ History Month and to celebrate we have highlighted some of the best LGBTQ books, films, and CDs in our collection. The Gender and Sexuality Library at the Center for Diversity &Inclusion in Mary Graydon Center Room 201 is another excellent source for more LGBTQ related materials. Items from the Gender and Sexuality Library can be checked out just like books and movies at the Bender Library.
Books
A Queer History of the United States by Michael Bronski (HQ76.3 .U5 B696 2011)
The first book to cover the entirety of lesbian, gay, bisexual, and transgender history, from pre-1492 to the present.
The Gay Metropolis by Charles Kaiser (HQ76.3 .U52 N486 1997)
This collection of anecdotes is both serious and gossipy when it comes to chronicling gay life in New York City-and America-since 1945.
From "Perverts" to "Fab Five" by Rodger Streitmatter (HQ76.2 .U5 S87 2009)
This book, by an SOC professor, tracks the dramatic change in how the American media has depicted gay people. While the media has reflected the American public's shift to a more enlightened view of gay people, it has also been an instrumental player in propelling that change.
Lost Prophet by John D'Emilio (E185.97 .R93 D46 2003)
Bayard Rustin taught Martin Luther King Jr. the methods of Gandhi, spearheaded the 1963 March on Washington, and helped bring the struggle of African Americans to the forefront of a nation's consciousness. However, despite his incontrovertibly integral role in the movement, the openly gay Rustin is not the household name that many of his activist contemporaries are. Acclaimed historian John D'Emilio explains why Rustin's influence was minimized by his peers and why his brilliant strategies were not followed, or were followed by those he never meant to help.
Lives of Transgender People by Genny Beemyn and Susan Rankin (CDI Gender and Sexuality Library, MGC 201 HQ77.95 .U6 B44 2011)
A survey of nearly 3,500 participants on gender development and identity-making among transgender and genderqueer individuals. With more than 400 follow-up interviews, the quantitative and qualitative data offers a powerful glimpse into the lives of transgender people.
Out in the Country by Mary L. Gray (CDI Gender and Sexuality Library, MGC 201 HQ76.27 .Y68 G73 2009)
From Wal-Mart drag parties to renegade Homemaker's Clubs, Out in the Country offers an unprecedented contemporary account of the lives of today's rural queer youth.
Nobody Passes edited by Mattilda (CDI Gender and Sexuality Library, MGC 201 HQ77.9 .N64 2006)
A collection of essays that confronts and challenges the very notion of belonging. By examining the perilous intersections of identity, categorization, and community, contributors challenge societal mores and countercultural norms.
Bi Any Other Name edited by Loraine Hutchins and Lani Kaahumanu (HQ74 .B5 1991)
In this groundbreaking anthology, more than seventy women and men from all walks of life describe their lives as bisexuals in prose, poetry, art, and essays
Films
Paris is Burning (Hone Use DVD 1650)
A documentary chronicling New York's drag scene in the 1980s, focusing on balls, voguing and the ambitions and dreams of those who gave the era its warmth and vitality.
Milk (CDI Gender and Sexuality Library, MGC 201 M)
The story of Harvey Milk, and his struggles as an American gay activist who fought for gay rights and became California's first openly gay elected official.
Boys Don't Cry (CDI Gender and Sexuality Library, MGC 201 B)
The story of a young transgender person named Brandon Teena who moves to a small town in Nebraska in the early 1990's.
Aimee and Jaguar (CDI Gender and Sexuality Library, MGC 201 A)
A German Film based off of the true story of two women who fell deeply in love in Berlin during World War II. One is a model Nazi wife and the other a Jewish member of the underground resistance movement.
Music
Make sure to stop by the Music Library in Katzen to check out our massive collection of LGBTQ musicians from Elton John to Queen to musicals like Priscilla Queen of the Desert (DC 9087) and Kinky Boots (CDE 10203). 
And for more academic research, make sure to check out 5 LGBT Resources at the AU Library.
Special thanks to Matthew Bruno at the Center for Diversity & Inclusion for the recommendations.