On Campus
Librarian Profile: Kathryn Ray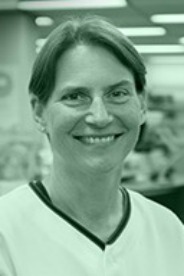 If you have visited the first floor of Bender Library, chances are you have seen Reference Librarian Kathryn Ray in action at the Research Assistance Desk, helping AU students track down the resources they need for projects and papers. Kathryn has been an instrumental part of the team since she came to the Library in 2003. Between her extensive knowledge base and her wealth of library experience with 23 years spent at DC Public Library, she brings a special energy to her work. Kathryn received her B.A. in American Studies from Mary Washington College, her M.S. in Library Science from Catholic University, and her M.Phil. in American Civilization with a concentration in DC History from George Washington University.
Given her interests as a student and her background as a DMV local, it makes perfect sense that she is now an expert on DC history. She is also eager to share that knowledge. In addition to creating the Subject Guide on DC History and Local Area Studies, Kathryn has been published several times, including a chapter on the Tenleytown neighborhood for the book, Washington at Home, published by the Johns Hopkins University Press. Her knowledge of the history of Tenleytown was particularly useful when she participated in the Tenleytown Heritage Trail working group.
Where can you find her?
Kathryn logs a lot of hours at the Research Assistance Desk, where she helps students, personnel, alumni, and community users with their research efforts. She can also be found in College Writing classes each semester, "teaching students the power of information." Every year during All American Weekend, Kathryn works with other Library personnel to offer the extremely popular AU Neighborhood Bus Tours. These tours fill up completely each year, even as the Library offers more and more tours to meet the demand. Kathryn helped to develop the guide for these tours, which explore the historical background of popular sites in the neighborhood surrounding AU, such as the former homes of Lyndon B. Johnson and Richard Nixon, Embassy Row, the National Cathedral, and Civil War forts.
Why she loves her job
As Kathryn puts it, "Working with students is very satisfying. I want to empower them by introducing resources and teaching research skills. It is a collaborative relationship because they are always exposing me to new ideas as well. Before working as a Reference Librarian, I didn't know much about the Fibonacci sequence or Beowulf. That is a fun part of my job—the research questions that come in can be about anything!"
In the Community
In addition to her love of sharing information and learning new things, Kathryn is also actively involved with the League of Women Voters of the District of Columbia and edits their book, Know the District of Columbia.Kathryn and her husband are also big fans of the Washington Nationals. "I grew up as a Senators fan and we've been season ticket holders for the Nats since day one." When she isn't working on scholarly pursuits or catching baseball games, Kathryn is taking ballet classes at the Washington School of Ballet, getting in some after-work Zumba, or biking around the city. As if that wasn't already a full schedule, she rows on the Potomac and Anacostia Rivers five days a week as a part of the Rock Creek Rowing group. The schedule may be intense—they hit the water at 5:25 a.m.—but for Kathryn "there is something magical about seeing the sunrise over the Kennedy Center, monuments, and cherry blossoms from the water."