On Campus
Librarian Profile: Martin Shapiro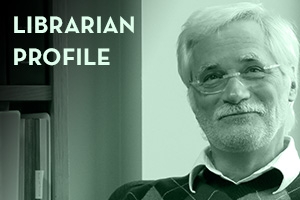 Humanities Librarian Martin Shapiro has been helping students and faculty at the American University Library since 1990. A poet, art enthusiast, and former science librarian, Martin's range of expertise allows him to support students across a variety of disciplines.
As a proficient Spanish speaker, Martin is an ideal resource for students preparing for a semester abroad, studying the language, or exploring Latin American literature. Martin's experience as a writer means that he can provide helpful guidance to anyone interested in creative writing or literature as a career or course of study.
Where can you find him?
Although he can often be found at the Reference Desk offering walk-in research assistance, Martin also provides in-class research instruction for Creative Writing and Literature. Want more in-depth help? Make an appointment for an individual subject consultation.
Why he loves his job.
As an educator, Martin's favorite part of the job is "getting to the heart of a question" while working with students. "The most wonderful thing is exploring and finding another path to the information, when one way is blocked. It is terrific to see the look on a student's face when they have a break-through in their research."
Another gratifying responsibility is determining which materials would be needed to support proposed and new programs. Martin's recent work to support the growing Arabic Studies major at AU has been both challenging and rewarding, as he helps the Library track down hard-to-find books that can only be ordered from publishers and book sellers in the Middle East.
In the community.
Martin also brings his talents as a writer to the University and the DC community, through his organization of a monthly writing workshop, his attendance at the Bread Loaf Writer's Conference, and his poetry. Although he does not limit himself to a single genre or school, Martin treats poetry as a daily discipline.
Martin brings that same energy and enthusiasm to his work with collections, instruction, and reference assistance. Working with the Research, Teaching, and Learning Division at the Library has been "revitalizing" for Martin and he enjoys being "surrounded by students and a part of a dynamic, rapidly changing environment."