On Campus
University Librarian Bill Mayer Moves to National Archives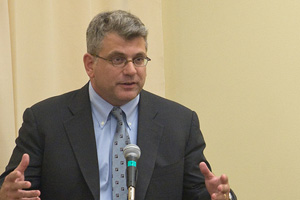 University Librarian William "Bill" Mayer announced his departure from American University effective June 8. Mayer left to become the Executive for Research Services at the National Archives and Records Administration (NARA) of the United States. In a press release, the National Archivist of the United States, David Ferriero stated, "Mayer is uniquely qualified to lead a nationwide team in delivering world-class services to customers wanting access to the National Archives' vast holdings of accessioned Federal records. He will direct a program that acquires, preserves, and makes historical records accessible at fifteen facilities across the country and on the archives.gov website."
At a farewell reception hosted by President Neil Kerwin and Provost Scott Bass on May 22 in the Founders Room of the School of International Service, the Provost noted that Mayer's library leadership was characterized by a simple philosophy, "We enable success," and that this philosophy ultimately served as a framework for many of the initiatives he supported. The Provost also presented a citation to Mayer that described the many library accomplishments achieved under his leadership. These included restructuring the library's organization, expanding electronic resources and services, shifting paper periodicals to the Washington Research Library Consortium Center, updating the library's physical spaces to make them more conducive to collaborative and comfortable study, installing a new Digital Media Studio, absorbing several units and services from the Center for Teaching Excellence, embedding librarians in some schools and colleges, and expanding study space through the opening of the Graduate Research Center in the underground space that joins the library and the School of International Service. The Provost particularly noted the recent acquisition of two major collections, the William Causey Modern Literature Collection and the Richard Stites Collection supporting AU's Initiative for Russian Culture. He also cited Mayer's internal roles as both an informal and formal leader in advancing university technology and his external service as chair of the library directors of the Washington Research Library Consortium. 
At the same event two speakers from the library staff and faculty paid tribute to Mayer. Michele Mikkelsen, Director of Administrative Services in the library, noted that the library has experienced "a significant amount of positive change," under Mayer's leadership and described Bill as one of "those ideal leaders . . . who possess qualities of emotional intelligence such as self-awareness, self-management, social awareness, and strong relationship management skills that make leaders so successful." Gwendolyn Reece, the Director of the library's Research, Teaching, and Learning division, focused on two characteristics of Bill's leadership: his willingness to take risks and experiment with changes and his emphasis on building relationships and partnering with other groups on campus which led her to conclude that Bill is a "master of informal power."
Mayer was appointed to the position of University Librarian for American University in 2007 after six years of service as the Associate University Librarian for Information Technology and Technical Services at George Washington and three years at the Washington Research Library Consortium. His first library positions were at the Massachusetts Institute of Technology and the Harvard Business School. He received his undergraduate degree from the University of Washington and his Master's degree in library science from Simmons College in Boston. Mayer also served as an adjunct professor in the library science program at Catholic University prior to becoming University Librarian.