Student Life
Feature Fridays Madama Butterfly, from the Metropolitan Opera On Demand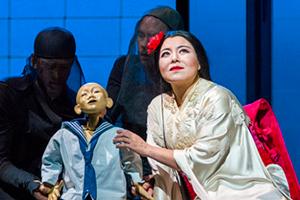 Welcome to Feature Fridays! Each week, AU Music Library staff highlight an item from our collection. While the library is closed, we will feature items that are available for streaming. This week student assistant Cameron Betchey reviews Madama Butterfly, by Giacomo Puccini, as performed by the Metropolitan Opera in the fall of 2019 and available through the Metropolitan Opera On Demand streaming platform.
One of the streaming services American University students have access to through the Music Library is the Metropolitan Opera On Demand, where you can stream over 700 opera performances produced by the Met. The most recent addition to this collection is the November 2019 production of Madama Butterfly, an opera composed by Giacomo Puccini in 1904. This performance stars Hui He as Cio-Cio-san, a beautiful Japanese Geisha known as Madama Butterfly, and Bruce Sledge as B.F. Pinkerton, an American soldier who comes to Japan for a bride. 
The story of Madama Butterfly is a classic tragic love story of a young girl (Cio-Cio-san) who falls in love with a man (B.F. Pinkerton) who leaves her for military duty. Eventually Pinkerton returns only for Cio-Cio-San to find he has married another woman. This heartbreaking story combined with gorgeous and lush romantic period Italian opera by Puccini transports the listener to the early 1900's. 
Accompanying the music is beautiful and vibrant visuals. The costuming and sets are loudly colorful, which pair wonderfully with the lush orchestral settings of Puccini's music. The setting of "O bel di vedremo" is quiet and intimate, which fits with the meaning of the aria. Butterfly sings to her maid and close friend, Suzuki, of the day Pinkerton will return to her. It is a song of blind and optimistic love; the optimism comes through in its persistent tonality and sweeping vocals. Hu's performance is powerful and intimate. 
Metropolitan Opera On Demand is a great resource for people who are dedicated opera fans as well as those who are just learning about opera. Being able to watch the performances helps new listeners to understand the plot and meaning behind the music more so than just listening to a CD or recording. The vast array of opera available on this service encompasses opera from not only the romantic era, but also the classical and modern just to name a few. Composers or artists can be easily searched the database so it is an extremely user-friendly tool. I would recommend this service, and Madama Butterfly, to people who are new to opera. There is plenty of time during social distancing to explore new art forms, and Met Opera on Demand is an excellent place to start.