On Campus
See What We Have to Offer at the Music Library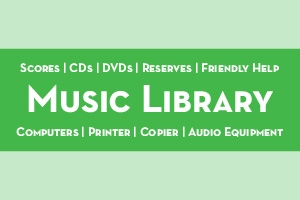 Everyone already knows that the AU Library is the place for DVDs, reference help, comfy chairs, and printing. BUT, did you know that the AU Library also has a Music Library?
Across Massachusetts Ave. from main campus in the Katzen Arts Center, the Music Library is worth the walk for anyone with even a casual interest in music.
Our collection includes thousands of scores for you to look through and borrow, so if you're starting to learn to play an instrument, we can find music appropriate for any skill level. If you haven't touched that trumpet since high school band, and are looking to get back into it, we have a terrific selection of Popular, Classical, Jazz, and Musical scores. With practice scores for all ability levels, we can help you refine your already polished technique—or take a stab a teaching yourself how to play. No, you don't need to be a music-major or even be taking classes in the Department of Performing Arts—if you go to AU, you can borrow from us.
The Music Library also has over 10,000 CDs. We know you stream stuff and YouTube things. (We do too!) But sometimes CDs are great—for sound quality, for album artwork and notes, and for having the whole thing. We have a lot of classical and jazz CDs, as well as classic rock, hip hop, pop, world, and folk. You can borrow up to 5 CDs at a time, keep them for a week, and return them to us or the borrowing desk in Bender Library.
Our music collection is only the tip of the iceberg. We also have DVDs of musicals (borrow for class or for fun), selected scripts (find the perfect monologue for your next audition), and computers with specialized software including Finale. We have a selection of magazines, from mainstream music industry big-hitter Billboard to the UK's premiere experimental music magazine, The Wire, plus a comfortable reading area for relaxing in between classes.
Our greatest asset, though, is our staff. We're all into, and love to talk, music—styles, bands, records, and more. There's tons of music out there, clickable and in your face, but sometimes it's nice to just talk to someone about music and what you're into. That's where we come in. 
Curious? You are always welcome to visit us in Katzen First Floor. During the semester, we're open Monday–Thursday 9am–8pm, Friday 9am–5pm, and Saturday 11am–4pm.