On Campus
Nancy Davenport Appointed Interim University Librarian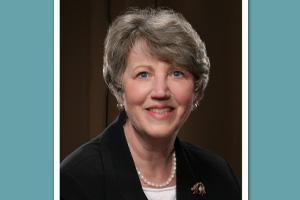 The AU community is pleased to welcome Nancy Davenport as Interim University Librarian. Ms. Davenport, whose appointment began September 4, brings a wide breadth of library experience, including management experience to AU. From 2006 to February of this year, she was the Director of Library Services for the District of Columbia Public Library system. In that capacity she oversaw all library services including the acquisition of books and other library materials, the central library with the largest local history collection in any public library, twenty-four neighborhood libraries, and supervision of three hundred staff.
Ms. Davenport also has extensive experience in library leadership at the Library of Congress where she served in various capacities in the Congressional Research Service, Rare Books and Special Collections, and Acquisitions. In the latter area, she was Director of Acquisitions from 1998 to 2004. As Director, she managed a budget of $10 million and was responsible for the collection development and acquisition of the national permanent collection to which 10,000 pieces were added each day. Ms. Davenport was Chief of Rare Books and Special Collections and Chief of Prints and Photographs from 1996–1998. For the Congressional Research Service, the research arm of the Congress well known to many AU researchers, she held various administrative positions including Associate Director for Special Programs, where she supervised units whose responsibilities included responding to more than 1500 inquiries per day from Congressional member offices.
Her prior administrative service also includes the presidency of CLIR, a prominent non-profit, independent research organization that works as a catalyst for change in academic libraries. Ms. Davenport is the founding principal and president of Nancy Davenport & Associates, a consulting firm which she began in 2006. As a consultant she has taken on many interesting domestic and international projects that have led to travel abroad in the Ukraine, Romania, and most recently to Vietnam where she worked on a project to develop a national legislative library for that country.
Ms. Davenport has also made many regional, national, and international presentations to library and other organizations. On several of those occasions she addressed the subject of keeping students connected to academic libraries. She has also served on many boards including those of the Digital Library Federation and the National Information and Standards Organization. She was a presidential appointee to the National Historic Publications and Records Commission and is currently on the Board of Directors of the Washington Master Chorale. Her articles have appeared in venues that include the Journal of Library Administration and Educause Review.
Ms. Davenport is a graduate of West Virginia University which honored her with its Distinguished Alumnus Award in 2005. She received her bachelor's degree in Political Science and Economics. Her Master's degree in Library Science is from the University of Pittsburgh.