On Campus
Enjoy These Sweet Library Selections for National Honey Month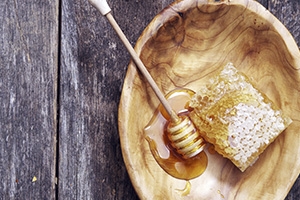 September is National Honey Month and to celebrate we combed through our hive to bring you a swarm of books, films, and CDs in honor of all things honey, bee, and beekeeping related. These titles and more are all available at the AU library.
Books
With cookbooks and guides to beekeeping, you'll be busier than a worker bee with these titles.
Letters from the Hive: An Intimate History of Bees, Honey, and Humankind By Stephen Buchmann (SF523.3 .B83 2005)
An account of the relationship between humans and bees from prehistoric to modern times and the rich history of the many uses for honey.
Anything by Karl von Frisch
The definitive expert on bees, Frisch won the 1973 Nobel Prize in Physiology for his work on investigations of the sensory perceptions of the honey bee and one of the first to theorize the waggle dance.
Bees: Their Vision, Chemical Senses, and Languages (QL569 .F74)
Dance Language and Orientation of Bees (QL568.A6 F643)
Honeybee Democracy by Thomas D. Seeley (QL568.A6 S439 2010)
Written by one of Frisch's students, this book showcases the nature of how bees make decisions democratically when it comes to the survival of the hive.
Buzz: Urban Beekeeping and the Power of the Bee by Lisa Jean Moore and Mary Kosut (E-Resources)
A look into the boom of urban beekeeping and trend in homegrown honey started in Brooklyn, NY.
The Winnie-the-Pooh Cookbook by Virginia H. Ellison (TX652.5 .E4345 2010)
Enjoy honey-centered treats such as berry whipped drinks or apricot honey bread with these recipes dotted with classic Winnie-the-Pooh illustrations.
Films
After baking some honey-based treats, relax with these buzz worthy films.
Vanishing of the Bees (Streaming)
A thrilling documentary following the collapse of bee hives and the deadly consequences of their vanishing.
Queen of the Sun: What are the Bees Telling Us? (Streaming)
Another look at the global bee crisis.
More than Honey (DVD 8570)
A worldwide look at bee colonies from California to Switzerland to China to Australia.
Music
Need a sweet score for a honey themed night? Only one really comes to mind: Nikolai Rimsky-Korsakov's "Flight of the Bumblebee" (CD 881)
Want more information on honey, bees, or beekeeping? Stop by our Research Assistance Desk, and a friendly library expert will help you locate additional sources.