On Campus
Bender Library Launches 24/7 Study Space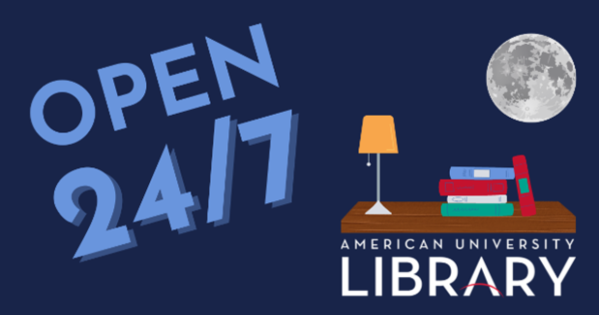 Starting on September 19th, 2022, the first floor of Bender Library will be open 24/7 to all students, faculty, and staff with an AU ID. Working collaboratively with public safety and campus facilities, Bender Library is excited to provide a safe and convenient study space for students whenever they want or need it.
Read on to find the answers to some common questions about this new service.
Will there be staff in the building after midnight?

The entire Bender Library building will continue to operate fully staffed throughout our standard hours. These are the hours where library staff will be able to assist you in person. After midnight, there is a 24/7 chat here where a Librarian can answer any questions.
What spaces will be open after midnight?

After midnight, library users with a current, valid AU ID will only be able to access the main floor of the library. Library users will no longer be able to access the lower level or the second and third floors. If you retrieve books from another floor of the library before midnight, and want to check them out after midnight, there is a self-checkout machine on the first floor.
What is building security like overnight?

The front doors are only accessible by someone with a current, valid AU ID. Please ensure that the doors close behind you after you swipe into the building to maintain this access level. Additionally, AU PD can be contacted in case of an emergency.
Will I ever be locked in overnight?

No, you will never be locked in the library overnight. Prior to midnight, staff will do rounds to ensure that all library users have left the lower lever, second, and third floors.