On Campus
Peace Corps Community Archive at The REACH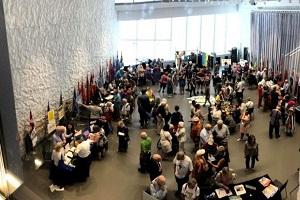 The Peace Corps Community Archive, a significant research collection of American University Library's Archives and Special Collections, was recently featured in a celebration of the Peace Corps at THE REACH, a new expansion of the John F. Kennedy Center for the Performing Arts. The event was a collaboration between the National Peace Corps Association (NPCA), the Returned Peace Corps Volunteers of Washington, DC (RPCV/W), and the REACH.
The collection provides compelling, first-hand observations and insights about the respective countries of Returned Peace Corps Volunteers (RPCVs) and the political situations of the moment, beginning from 1961. Our Kennedy Center exhibit focused on the theme of "Answering the Call." Visitors were able to see a wide range of fascinating materials including diaries, posters, photographs, film, correspondence, scrapbooks, and sound recordings; all of which were created or acquired by RPCVs. Library Associate Archivist Leslie Neilis, Robert Newlen, and Peace Corps Community Archive Fellow Haley Steinhilber were on hand to lend their expertise to participants.
The Archive is actively soliciting RPCV donations of material. For more information, email archives@american.edu or call (202)-885-3256.