Student Life
Feature Fridays All Ashore, by the Punch Brothers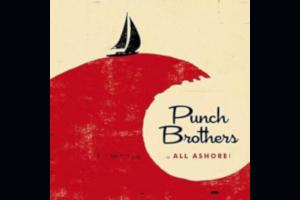 Welcome to Feature Fridays! Each week, AU music library staff highlights a CD or artist from our collection. This week, Student Assistant Jacob Tracey reviews All Ashore by the Punch Brothers.
The Punch Brothers, comprised of Chris Thile, Gabe Witcher, Noam Pikelny, Chris Eldridge, and Paul Kowert, are a bluegrass group hailing from Brooklyn, New York. The group has been making waves in the bluegrass, alternative, and indie charts since their incredible debut album Punch, released in 2008. Finding a way to keep the wonderful musical style of bluegrass alive in a day and age where rap, pop, and indie alternative dominate the radio is a difficult challenge, but Chris Thile and the rest of the Punch Brothers seem to have found the key to successfully doing so. Since Punch, the band has dropped numerous albums as well as performed at many festivals, and even a few times on live TV! While every album of theirs has something incredible to offer - whether it's a 11-minute opening track or a song to get you dancing - nothing beats the raw talent and songwriting/orchestrating ability that Punch Brothers demonstrate on their latest album, All Ashore.
Released last year on July 20, All Ashore was instantly met with critical acclaim, even winning the Grammy for Best Folk Album of 2018! Trading in the sounds of a normal band for unconventional ones, the rhythm in Punch Brothers' songs relies less on drums and more so on the bassist and the guitar player. This idea is especially prominent on All Ashore in tracks like "All Ashore" and "Jumbo." It's one of the many things that made me fall in love with their sound. All Ashore feels like sitting down with an old friend and catching up and reminiscing on old stories. Each song tells a story in one way or another, whether it's through the lyrics or through the instrumental themselves. In an interview last year, Thile commented on the album saying "[All Ashore is] a meditation on committed relationships in the present day, particularly in light of the current political climate…" (Hill). This feeling of uncertainty is both scary and reassuring, letting the listener know that they are not alone. 
Some highlights from this record are "Jumbo" and "It's All Part of the Plan." Both of these songs are gorgeous in their own ways and offer something so unique and special. While their past works feel like little glimpses into their pasts, All Ashore takes you to the present and tells you exactly what is going on in each of the members' heads. It's a fantastic album from start to finish that you should surely listen to at least once, if not more. 
All Ashore (2018) is available to loan from the AU Music Library, as well as their debut album Punch (2008). Two further albums, Antifogmatic (2010) and The Phosphorescent Blues (2015), are also available to stream online through Naxos.