On Campus
Come One, Come All to Recycleland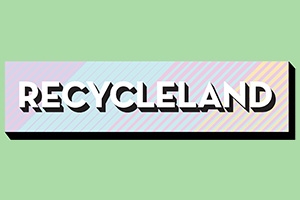 Over the last year, the library has made considerable efforts to expand its green initiatives by using 100% recycled paper, installing rooftop solar panels, turning off excess light fixtures, and even pioneering the first zero-waste events on campus.
In our continued effort to reduce waste on campus, students can now visit "Recycleland" in the library's lower level front stairwell. Here, students, faculty, and staff can bring a variety of items for recycling, including batteries, print cartridges, old cell phones, and plastic bags.
Did you know that the average person produces 4.5 pounds of trash every day? That's about 1.5 tons of solid waste per year! The EPA estimates that 75 percent of solid waste is recyclable, but only about 30 percent is actually recycled. This does not even include the approximately 40 million tons of e-waste produced globally each year, of which the U.S. accounts for over 2.6 million tons. With over a billion cell phones purchased globally each year, it is vitally important to reduce the number of non-biodegradable electronics that are dumped into landfills.
Plastic bags can prove particularly wasteful, and both the District of Columbia and American University have made significant steps in the last years to help curb this waste. This year, the Campus Store, Eagles Nest convenience store, and Subway eliminated the use of plastic bags, replacing these environmentally harmful bags with reusable canvas totes and biodegradable paper bags. The library is a convenient location to recycle any remaining plastic bags on campus.

So, bring your recyclables to Recycleland today and do your part to help make AU a greener campus!
The library thanks Helen Lee and Mark Feist in Facilities Management for helping secure receptacles.