On Campus
Win A Prize for Outstanding Research! Enter A Paper/Project in the Annual AU Library Research Competition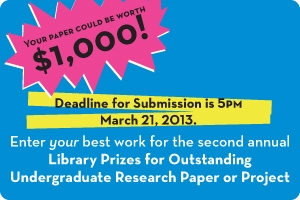 AU Library is offering two prizes for outstanding Undergraduate Research papers or projects prepared during 2012: one for the Best College Writing Research Paper or Project and one for the Best Undergraduate Research Paper or Project. A prize of $1,000 will be awarded in each category. Papers and projects prepared for spring, summer, or fall 2012 AU courses will be accepted for consideration.
Submission Dates and Prizes
In January the University Library will begin accepting application for two prizes for high quality undergraduate research papers or projects:
University Library Prize for Best College Writing Research Paper or Project
University Library Prize for Best Undergraduate Research Paper or Project
One prize of $1,000 will be awarded in each category. The deadline for submission is 5:00 pm, March 21, 2013.
Purpose:
The purpose of the prize is to recognize and award American University undergraduate students who make extensive use of the University Library's collections and show evidence of critical analysis in their research skills, including locating, selecting, evaluating and synthesizing information.
Eligibility:
Students must be currently enrolled as undergraduates at American University. Groups and teams are not eligible.
Undergraduate papers or research projects that have been completed for a registered American University course, including study abroad courses, are eligible for consideration for the Best Undergraduate prize. Papers or projects prepared for a College Writing class are eligible for the Best College Writing prize.
Papers submitted in Spring, 2012, Summer 2012, and Fall 2012 courses are eligible.
Evaluation criteria:
Successful projects will demonstrate:
Substantial use of library resources and collections in any format, including but not limited to printed resources, databases, primary resources, and materials in all media;
Ability to locate, select, evaluate, and synthesize library resources and to use them in the creation of a project that shows originality and/or has the potential to lead to original research in the future;
Evidence of significant personal learning and the development of a habit of research and inquiry that shows the likelihood of persisting in the future;
Originality of thought, mastery of content appropriate to class level, clear writing, and a high quality of presentation.
Application Procedure:
Applications may be received beginning January 14, 2013.
To apply, students must submit the following in electronic form (Word or Rich text format) to LibAward@american.edu no later than March 21, 2013.
Completed application cover sheet with student name, title of project, title of course, name of professor, date of submission to competition.
Letter of recommendation from the faculty member who taught the course for which the paper or project was prepared. (Refer faculty to the list of evaluation criteria.)
A brief 500 to 700 word reflective essay describing research strategies, application of library tools and resources in completion of the project.
A bibliography or other listing of sources consulted, if not already included in the paper.
A final version of the project. Written papers should be double spaced and may be of any length. Digital projects should be submitted on a DVD or CD. For other formats, contact LibAward@american.edu
Students may submit more than one paper, but only one award will be granted per individual. If you have questions about the award, the nomination or application process, contact librarian Mary Mintz or LibAward@american.edu.
Evaluation Committee:
A committee composed of American University faculty from the library, the College Writing program, and other academic units will evaluate submissions.
Recognition:
Awardees will be announced in late spring semester and will be honored at a special event.
Awardees will receive a certificate and a monetary prize of $1000.
Awardees may be acknowledged in library publications and may be recognized at other appropriate university venues such as the Undergraduate Research Fair.
Copies of the research papers may be held in the AU's digital repository, American University Research Commons.