On Campus
Library Support for Successful New Year's Resolutions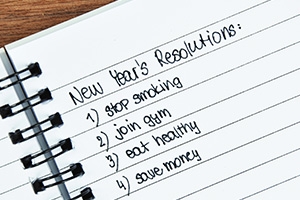 Here at AU Library, we have resources that can help you to succeed with your resolutions. From improving fitness, to traveling more, to learning a new skill, we rounded up some of the most helpful books, films, and music items in our collection to help support the most commonly made New Year's Resolutions.
Books:
Kicking Butts: Quit Smoking and Take Charge of Your Health This helpful little eBook can be part of an effective solution to kicking the smoking habit by guiding readers through the process with tips and suggestions. Offering solid support when its needed most helps maintain the motivation to quit and STAY quit. As a bonus, the electronic format means you can read it on your computer, tablet, or smart phone.
Fit At Last: Look And Feel Better Once And For All by Ken Blanchard and Tim Kearin Embracing a healthier lifestyle is a common resolution each year. This book can help change an interest in exercise into a commitment to exercise.
Diet Cults: The Surprising Fallacy At The Core Of Nutrition Fads And A Guide To Healthy Eating For The Rest Of Us by Matt Fitzgerald True to its long title, Fitzgerald debunks fad diets and offers a reasonable approach to healthy eating that is flexible enough to accommodate a range of personal preferences and lifestyles.
Money Book For the Young, Fabulous & Broke by Suze Orman In this book, personal financial guru Orman helps millennials navigate the basics of the financial world, like coping with huge student loans and a dismal job market.
Off The Beaten Path: A Travel Guide to More Than 1,000 Scenic and Interesting Places Still Uncrowded and Inviting from Reader's Digest Follow your wanderlust with this budget-friendly vacation planner highlighting lesser-known destinations in the United States.
Resources:
Pronunciator
Learn a new language or brush up your existing language skills with this free program. Use your AUID to sign up for this program, which offers instruction in 80 languages taught in any of 50 languages, making it easy for English speakers to learn Tagalog, or Spanish speakers to learn Arabic. Access Pronunciator through the "Search Databases" link on the Library homepage.
Lynda
The Lynda Software Training Library offers free online tutorials in a huge range of subjects. You can polish your professional presentation skills, discover how to take better photographs, finally master JavaScript, learn how to design a website, or even bone up on Music Theory. Access Lynda through the "Search Databases" link on the Library homepage.
Films:
Super Size Me This classic documentary about the fast food industry may reinforce those healthy eating resolutions.
Planet Earth The stunning mini-series captures rare action and impossible locations—great motivation for any would-be world traveler.
Music:
Did you know AU has a Music Library? Start the New Year off with a visit to their location in Katzen. There, you can complete New Year Resolutions such as expanding your musical taste with recommendations from the friendly staff, as well as check out sheet music for the musical instrument you've always wanted to learn to play.