On Campus
Éirinn go Brách! Celebrate St. Patrick's Day with these Library Recommendations.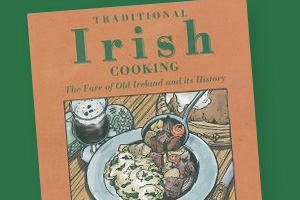 Once classes resume after Spring Break, we will all need a little pick-me-up to get back into our routines. What better way to do that than to get into the holiday spirit of St. Patrick's Day! Below are some fun and relaxing ways to celebrate this holiday and learn more about Irish culture.
Books
The Wearing of the Green: A History of St. Patrick's Day, by Mike Cronin and Daryl Adair [GT4995.P3 C76 2002]
A quick and comprehensive account of the ways that St. Patrick's Day is celebrated and how these traditions originated. What better way to get into the holiday spirit than to understand it!
St. Patrick's Day: Its Celebration in New York and Other American Places, 1737-1845; How the Anniversary Was Observed by Representative Organizations, and the Toasts Prepared, by John D. Crimmins [E184.I6 C9]
This book discusses the traditions and celebrations of St. Patrick's Day from the first celebration in Boston in 1737 to the first parade in New York City. This book is also available as a free E-Book via Google Books
St. Patrick: The Life and World of Ireland's Saint, by J.B. Bury; foreword by Thomas Charles-Edwards [http://bit.ly/1sDOyvf]
This biography points out possible discrepencies in some periods of St. Patrick's reported history. It is an interesting perspective on the life and times of St. Patrick, the man behind the holiday.
Traditional Irish Cooking: The Fare of Old Ireland and Its History, Andy Gravette and Debbie Cook [http://bit.ly/1ynpxFR]
This fantastic cookbook not only has a plethora of delicious recipes, but also gives insight into the life of those who love these meals. Try a few of them out with friends or solo for some fun in the kitchen.
Irish Countryhouse Cooking, compiled by Rosie Tinne [http://bit.ly/1yhhs74]
A tasty way to try something new and old, these traditional meals range from easy to make to more complicated for experienced foodies. Why not add some green dye to your dishes to get even more festive!
Films
The Wind that Shakes the Barley [HU DVD 3374]
This film centers around two brothers and their respective places in the conflict between Britain and Ireland during the time of the Irish War of Independence.
Gangs of New York [HU DVD 590]
Leonardo DiCaprio plays an Irish American adult seeking vengeance against "Bill the Butcher" who killed his father years before in this film directed by Martin Scorsese.
Once [HU DVD 3745]
Set in Dublin, Ireland, Once is a guy-meets-girl story with a musical twist.It provides a great way to get your romantic movie fix while also experiencing Ireland's rich culture.
Music
"20 Best Irish Pub Songs" by Noel McLoughlin [http://bit.ly/1yhAY3f]
This compilation includes some popular favorites such as "Whiskey in the Jar," "The Wild Rover," and "The Galway Races."
"Traditional Irish Music" [http://bit.ly/1DIP13h]
Make sure to be logged into your AU account to access this set of songs from Sean Talamh. Some songs listed include "Belfast Mill," "Valse Ronde," and "The Humours of Flinn."
"Celtic Dances: The Legend," contributed by Liz Knowles [http://bit.ly/1Cszxgg]
If dancing is more your speed, enjoy the Celtic sounds that get the Irish to their feet. The Naxos Library, where this music is located, also has hundreds of other Irish classics for which to search!
Events
D.C. St. Patrick's Day Parade [http://dcstpatsparade.com/]
On March 15th, 2015, the 44th annual D.C. St. Patrick's Day Parade is taking place on Constitution Avenue from 7th to 17th Streets, N.W. The parade route is easily accessible from the Federal Triangle, Archives-Navy Memorial and Smithsonian metro stations. Come out of winter hibernation to celebrate the holiday with others in the D.C. area.