On Campus
Sally L. Smith Papers dedicated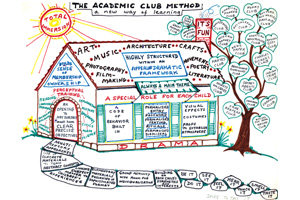 A reception to celebrate the dedication of the papers of Sally L. Smith to the University Library's Special Collections was held on Friday, November 19. Sally L. Smith was the founder of The Lab School of Washington and a member of the faculty of the School of Education, Teaching, and Health (SETH) where she directed the special education program. Professor Smith is internationally known for her expertise in education for people with learning disabilities.
Two of Sally Smith's sons and other family members were present for the celebration. As son Randall Smith addressed the large audience, he explained how pleased the Smith family is that her papers "will be available for years to come" and how they will help others "live the legacy of Sally." Son Gary also noted that the occasion brought him joy, and the youngest Smith, granddaughter Maggie, and her plush pet Mousy presented their own special greetings, a moment that her grandmother, an advocate for the use of creativity in the education, would have appreciated.
As University Librarian Bill Mayer opened and closed the dedication, he remarked that Professor Smith was clearly a woman of great passion and intelligence with a profound influence on others. Sarah Irvine Belson, Dean of SETH, recounted her personal experiences of team teaching for many years with Professor Smith and noted that "no one ever really graduated from Sally," since her students always became lifelong learners of her pedagogical methods. Mayer presented specially-designed copies of the finding aid created by University Archivist Susan McElrath to the Smith family and to Dean Irvine Belson.
Guests at the event viewed Soaring to New Heights, a video about the Lab School and its teaching methods. Guests also enjoyed displays that included photographs of Sally Smith, including a large black-and-white image of Smith in a dance costume which she wore as an undergraduate at Bennington College where she studied with Martha Graham. Other items on display included Smith's recognition letter for her early work with the UN and one of her famously colorful and artistic "to do" lists. Guests received gift bags prepared by SETH and the library that included a notebook with a reproduction of the "to do" list as the cover along with a library bookmark, a magnet, and a ring in some of Smith's favorite colors.
Additions to the Sally L. Smith Papers collection are welcome. Please contact Susan McElrath at 202-885-3255 or mcelrath@american.edu if you have items created by, co-created by, or inspired by Sally smith to expand the collection donated by her family. The library's Special Collections would be most interested in audiovisual recordings, correspondence, photographs, and writings, but would welcome other materials as well.
More About Sally L. Smith and the Smith Papers 
American University Library is pleased to announce the acquisition of educator Sally L. Smith's papers. Sally Liberman Smith (1929-2007) graduated from Bennington College in 1950, where she studied with Martha Graham and Erich Fromm. Her senior thesis entitled, A Child's Guide to the Parent's Mind, was published as a book in 1951. Smith earned a master's degree in education from New York University in 1955. In 1967 Smith founded The Lab School of Washington. She developed the school's innovative curriculum, the "academic club" method, in which students explore history, geography, civics and other subjects by relying on visual and hands-on activities. In 1976, Smith joined the faculty of American University with an appointment in the School of Education. She directed the master's in special education program which focused on learning disabilities. Smith was also the author of ten books about learning disabilities and lectured nationally and internationally on the role of the arts in teaching children with learning disabilities. She received numerous awards including the Learning Disabilities Association of America's LDA Award (1993).
The Sally L. Smith Papers document her work as an educator at American University and at The Lab School of Washington. The collection consists of articles, books and poetry (published and unpublished) written by Smith; audio and video tapes featuring interviews with and speeches by Smith; biographical information; calendars; correspondence; lecture notes; speeches; and syllabi. Materials relating to The Lab School of Washington include curricular materials, photographs, programs, and publications. Of particular note, the Smith Papers collection contains samples of General George S. Patton's homework which reflect his dyslexia and a signed photograph of the general that his daughter gave to Smith. For additional information about the collection, please consult the guide to the collection here.