On Campus
Fin-tastic Collection Highlights for Shark Week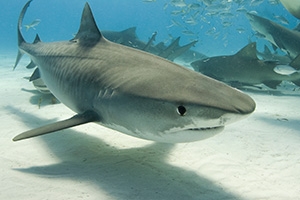 Close to Shore: a True Story of Terror in an Age of Innocence by Michael Capuzzo
During the summer of 1819, a series of fatal shark attacks along the Jersey Shore set off a public panic. These attacks changed the accepted scientific belief that sharks were not dangerous to humans and are often credited with inspiring the book Jaws by Peter Benchley.
In Harm's Way: the Sinking of the USS Indianapolis and the Extraordinary Story of its Survivors by Doug Stanton
When this Navy cruiser was torpedoed and sank in 1945, the survivors of the initial attack faced a number of dangers, including shark attacks. Out of a crew of almost 1,200, there were only 317 survivors This book connects the larger narrative with the stories of 3 survivors.
TEDTalks: Simon Berrow - How Do You Save a Shark You Know Nothing About? (streaming video)
Marine biologist Berrow speaks about near-extinct basking sharks, a non-aggressive and enormous filter feeding breed of shark. Although long hunted for their oil, little is known about basking sharks, something that Berrow is attempting to remedy by studying these creatures.
Surviving the Shark: How a Brutal Great White Attack Turned a Surfer into a Dedicated Defender of Sharks by Jonathan Kathrein and Margaret Kathrein (ebook)
As a 16 year old, Kathrein was attacked by a great white shark while surfing at a popular Northern California beach. As an adult, he raises awareness of sharks, advocating for these threatened animals. His biographical account of these experiences is inspiring.
Sea of Sharks: a Sailor's World War II Survival Story by Elmer Renner and Kenneth Birks
During WWII, a small Naval minesweeping ship was capsized by a typhoon in the waters of Okinawa, Japan. Stranded for days without food and water, the powerful story of the survivors is told through Renner's first-hand account.
Saving the Oceans: Shark Reef (streaming video)
This PBS program takes a look at the threats faced by sharks, particularly the shark fin trade, and the research efforts underway by marine biologists to collect data that may be used to protect these increasingly endangered fish.
Blue Urbanism: Exploring Connections between Cities and Oceans by Timothy Beatley (ebook)
Dive into the complicated relationship between urban areas and the oceans in this engaging book. While the movement to 'go green' becomes increasingly visible, Beatley provides a look at what it means for cities to 'go blue' and build a more sustainable connection to the world's oceans.
Framing the Ocean, 1700 to the Present: Envisaging the Sea as Social Space edited by Tricia Cusack
This collection of essays tracks the shift in the cultural perception of the ocean, from the widely held 18th century view that the sea was a dark and empty place, to present-day connections between marine science and art. This volume pulls together works on an array of topics, employing a broad range of approaches, such as post-colonial and feminist theory.
How Many Sharks in the Bath? by Bill Gillham
Toddlers can get in on the fun of Shark Week with this colorful counting book.
Shark vs. Train by Chris Barton
Little ones will get a kick out of this story, in which two favorite toys go head-to-head in a series of competitions to see who comes out on top.
Neighborhood Sharks: Hunting with the Great Whites of California's Farallon Islands by Katherine Roy
This award-winning and beautifully illustrated book takes the reader to the Farallon Islands, only 30 miles away from the Golden Gate Bridge, to show a day in the life of great white sharks.