Student Life
7 Tips for a Successful Spring Semester Find out how The Library can assist with your academic needs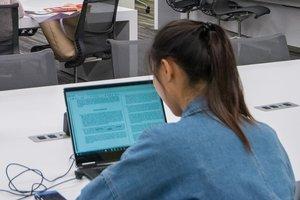 The Library can help you save money: Borrow your General Education course textbooks, as well as other textbooks that cost over $150, for 3 hours from the Circulation and Course Reserves Desk on the first level. Find items on Electronic Reserve through the Blackboard page for your course. Learn more here.
Use our Ask a Librarian service for help with your research: Visit our Research Assistance Desk on the 1st level for in-person assistance, email research questions, or check out our FAQ's.  Can't come in person? Submit your inquiry to our AskAULibrary chat online. 
Make an appointment with one of our subject specialists: Our subject specialists provide personalized research assistance in your subject area. We also have subject guides compiled by our Librarians to further assist in finding resources for your research topics.
Take advantage of the resources in our Research Commons: The Library connects campus services with students in a convenient location. We offer statistical software support, tutoring services, and more.
Online Support: We offer support to students studying abroad as well as online learners. View our catalog and databases online, make an Interlibrary Loan request, or stream videos from our online media collection. You can also visit our YouTube page for online tutorials. Here you'll find videos on formatting your thesis and dissertations, logging in to Blackboard, and more.
The Library offers print services: Print your documents from our printing center on the lower level. You can also add a professional touch to your posters and presentations with help from our Makerspace. There we can assist with your poster and 3D printing.
For more info visit our website and connect with us on social media.