On Campus
Secret Lives: Matt Barry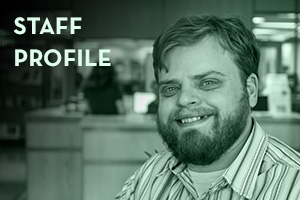 When most Library personnel are asleep, Matt Barry is here keeping an eye on things. As the Overnight Operations Coordinator, Matt oversees the building and patrons each night from 11:30 p.m. to 7:30 a.m. Between the unusual hours and his work as a non-traditional student, Matt does not shy away from a challenge. He is enrolled in a B.A. program in History at American University and now has only one course left before he graduates.
Matt is also one of the 3 million Iraq and Afghanistan veterans in the United States today. Attracted to military service as a kid, Matt greatly admired his older cousin's service in the Marines and loved visiting battlefields with his history-buff dad. Growing up in New Jersey near the Monmouth Battlefield State Park, Matt loved visiting this "battlefield in suburbia" and reading history books. Reminders of the Revolutionary War are dotted throughout the northeast, and since moving to the DC area, Matt has also been able to visit some of the nearby Civil War sites. "As Americans, we've been blessed with a largely peaceful existence within our own country and these historic sites are important. They speak to the way that we memorialize the events of the past and provide us with a glimpse into history, right in our own backyards."
Immediately after high school, Matt enlisted in the Marines. At the age of 17, he went off to Parris Island in South Carolina for 2 weeks of training, the longest he'd ever been away from home. Initially, the stressful environment was traumatic, but it quickly started to feel normal as Matt adapted to the demanding new schedule. He found that the training was not only practical, but also included social and cultural components. After completing training, he was serving his country and attending community college at the same time while residing in New Jersey, until the events of 9/11 changed everything.
In 2002, he received notice about mobilization and one Friday in January 2003, he was placed on active duty – beginning that Monday. "My priorities shifted very quickly. I called my parents, then my girlfriend, and the rest of the weekend is a blur." First sent to Camp Pendleton in California, within 3 weeks of being mobilized, Matt was in Kuwait. About a month after he arrived, the war began. Suddenly, his chemical response training was put to use, as the base was under missile attack for the first couple of days. Matt describes the experience of his tour in the Middle East as "large spans of boredom, punctuated by moments of sheer terror."
After being demobilized around his 21st birthday, Matt returned to college, eventually transferring to American University in 2006. He also took on a part-time job at the Library, before being hired for a full time position within a few months. For Matt, returning to school was a culture shock. "The unpopularity of the Iraq War made for some uncomfortable class discussions, because there were often strong, emotional responses being voiced, but on the whole, everyone was still welcoming."
As a student of history, Matt has discovered an interest in memoirs and other personal accounts. "That shared experience over generations, a shared lineage that transcends time, allows me to see what I have in common with soldiers from different nations and time periods. At one time, each of us is a person isolated from home, surrounded by strangers who become friends, and enduring hardships that make us stronger." Since Matt has been on campus, he has watched how AU worked to improve the experience of veteran students, of whom there are now more than 100 on campus. The Veterans of American University student organization advocates for student veterans and provides them with a peer support network. AU also offers the Yellow Ribbon GI Education Enhancement Program, which helps to make college for affordable for veterans. There is even a Veterans Lounge in Asbury, providing these students with a space that facilitates connection among student veterans.
Asked for any advice that he would share with other student veterans or veterans thinking of returning to school, Matt had this to say: "Remain flexible. If it takes a little longer to meet your goals, that is okay—it will happen. Your experiences in the service will give you the fortitude to finish your degree."
Matt's Recommendations
With the Old Breed by Eugene Sledge
A US Marine's memoir of his fighting in the Pacific theater of World War 2. It is visceral. It is shocking. And itis easily one of the finest war memoirs ever written.
The Last Stand of the Tin Can Sailors by James D. Hornfischer
A wonderfully written narrative history of Taffy 3, an outgunned and outnumbered US Navy force tasked with protecting vulnerable troop transports in the Philippines. They find themselves facing the might of the Imperial Japanese Navy, including the Yamato, one of the largest warships ever built.
A Walk in the Woods by Bill Bryson
The American humorist Bill Bryson decides to reconnect with his home country after spending decades aboard by hiking the famed Appalachian Trail. He teams up with an old college buddy and a combined outdoorsmen skill of "What do you mean I shouldn't eat these berries I found?" to conquer all 2100 miles of it. 
The Lego Movie
Everything is, in fact, awesome.