On Campus
Secret Lives: Shane Hickey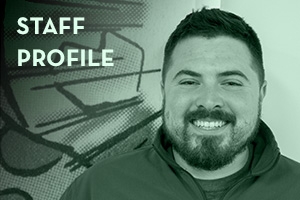 Interlibrary Services Coordinator Shane Hickey loves a challenge. Here at the AU Library, his focus is on locating and obtaining Interlibrary Loan materials as quickly as possible, in order to assist scholars with the time consuming research process. "I know how big a difference a single resource can make, because a thesis or paper is only as strong as the sources used to write it." Shane's drive to succeed and his interest in helping others shines through in his entwined roles as a rugby player and LGBT rights supporter.
A lifelong athlete, Shane tried his hand at a range of sports. From the time he was in the second grade, it was a family hobby to run together each morning. Growing up near Syracuse, NY, this was no easy feat. Rain or snow, the entire family (including the dog) went for an early morning run each day, even when on vacation. Shane absorbed his parents' enthusiasm for athletics. Throughout school he played basketball, soccer, and baseball, earned a black belt in karate, and ran cross country for 6 years.
Luckily for him, all that practice paid off when he was introduced to the world of rugby. A casual fan of televised matches, Shane quickly made the jump to playing on the Scandals, a DC area team. After meeting a local member of International Gay Rugby (IGR), an organization that brings together players from LGBT and inclusive teams, Shane joined the Scandals for their weekly practice and was invited to watch their game that Saturday.
Much to Shane's surprise, the coach decided to start him in that match. "It was terrifying! I had never even seen a game in person before that day" he recalls, but was hooked and has now been a member of the team for a year and a half. All those years of running outside in upstate New York prepared Shane for the pre-season conditioning that begins each year in January. Twice a week, the team meets for outdoor conditioning trainings that shift into outdoor practice sessions mid-February. The first game of the season is held at the end of March and the season concludes in May.
During the off-season, Shane stays involved by working as Club Secretary for the team, participating in team volunteer work, such as taking part in the DC AIDS walk and volunteering at Capital Pride, and running Rugby 101 clinics with his teammates, which introduce newcomers to the sport. For him, rugby is more than a game. His work with the Washington Scandals Rugby Football Club provides him with an opportunity to build friendships, participate as a supporter within the DC gay community, travel for away games, and be a part of something inclusive and rewarding.
"There is a place on the field for anybody of any size. As long as you have the will, you can play rugby. Our team includes men who have always played sports and men who felt excluded from athletics because of their sexual orientation – and are trying a sport for the first time." Shane loves that there is room for everyone in rugby. The Capital Rugby Union, an organization that oversees rugby clubs within a region that stretches from central Virginia to eastern Pennsylvania and Delaware, includes women's, men's, and youth clubs. Shane describes rugby as a "thrilling, intense team sport that offers room for individual goals and provides a satisfying sense of glory and competition."
For anyone who is curious about rugby, Shane highly recommends checking out the Six Nations Competition, an annual international competition between England, France, Ireland, Italy, Scotland, and Wales. The 2015 Six Nations matches will run through March 21st and are televised at several Irish pubs in the DC area. The Scandals Facebook page also offers information on upcoming Rugby 101 clinics, matches, and social events where you can meet team members.
Book & Film Recommendations from Shane:
Life On Air: Memoirs of a Broadcaster by David Attenborough
David Attenborough is a personal hero of mine and his autobiography is wonderful. From the early days at the BBC to his travels across the globe, learn about the history of the BBC, the challenges of filming wildlife, and the unexpected joys that life brings.
Anecdotes of Destiny by Isak Dinesen
This charming collection of stories by Isak Dinesen (Karen Blixen) will keep you both entertained and thinking. Babette's Feast is my favorite from this collection and one of the greatest stories about food of all time—it was also turned into a film which won the 1987 Oscar for Best Foreign Language Film.
Borgen
Best political drama ever made, hands down. This fictional account of Denmark's first female prime minister will have you hooked from episode 1.
Bringing Up Baby
This story of unexpected love, a leopard, and one missing intercostal clavicle bone will keep you laughing from beginning to end. Oh, and it stars Katharine Hepburn and Cary Grant, need I say more?